Subscribe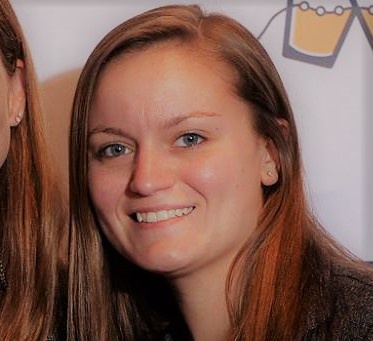 How You Can Reach Credit Union Members on Instagram
Marketing for Your Financial Institution | Marketing Tips | Marketing & Sales Strategy | Millennial Marketing
It's important for Credit Unions to always work to find new and better ways to engage with members, especially in this day and age when fewer and fewer people are visiting branches in person.
We are working with a few CU clients who are pushing out to members more and more via Instagram and seeing some great engagement and fun interactions there. All these efforts help to build relationships and trust with members, and to remain top of mind as they go about their daily lives, which is essential to better grow your CU's share of a member's wallet.
Here's a few tips to help your staff reach more Credit Union members via Instagram:
Fully Optimize Your Profile
When you land on any Instagram account the first thing you see is a username, a photo, a short description and the ONLY clickable link on Instagram (except in ads). This is your chance to let your brand shine through and tell people what you are all about, DO NOT leave this section blank!
When choosing an image, make sure it is sized properly for Instagram. If you upload a square image, it will automatically be cropped to a circle. We recommend you use your credit union's logo to keep your brand consistent and clear.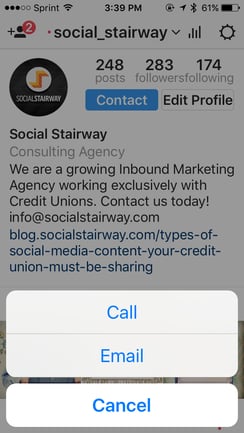 Your bio is your first introduction, make sure your brand and mission is clear. Also, make sure you add a link to your website in the designated field, this is the only clickable link on Instagram!! You can change this at any time, so update it with your changing marketing campaigns or with links to blogs or other website content as you share it in posts.
There's also a place to update your contact information and include an email and phone number as well as an address. Make sure you fill these out so that readers can click the CONTACT button on your profile and easily call or email your CU.
Optimizing your profile will not only help your members find you but they will instantly recognize your credit union and be more likely to follow you.
Use Facebook Ads to Better Target Members
Instagram ads are great if you are looking for a very broad audience based off of location and interests, but if you want to reach just your members, there is no way to do this. In Facebook ads you can create a custom audience of your members by uploading a member list.
Once this list is made you can create an ad in Facebook Ads Manager that is targeted JUST to your current members. We have found that brand awareness ads work best when trying to grow your Instagram's exposure and followers.
Share Branch Generated Content
Behind the scenes photos are by far the most engaged with on Instagram. Behind the scenes as in a picture of a birthday cake for your branch manager, or a photo of the new flowers planted outside of the main branch. These photos do so well on Instagram because it is relatable to your members, it is part of their world!
Another fun way to get your members involved is an Instagram takeover day with a techsavy team member. By doing a takeover, it will give your members and followers a glimpse of the day to day happening at the branch. This is a great way to get branch team members involved and excited about social media as well.
Come up with a Solid Hashtag Strategy
Hashtags are a great way to reach your target audience, boost engagement and develop a content hub. We suggest using 10 or more hashtags per post ranging from extremely popular to brand specific.
Research hashtags that relate to your brand or your mission and judge their popularity by how many public post there are.
Once you create a list of hashtags, you can pull specific ones that align with what the post is about. We use this strategy:
Include 3 - 5 Popular (In the Millions)
Include 5 - 8 Moderately popular (In the Hundred Thousands)
Include 3 - 5 Keyword Targeted (In the Thousands)
By creating a hashtag list and a simple guideline like the one above, you will ensure easy posting and better reach and engagement.

Related: Is Your Social Media Visual Content Good Enough?

About Ida Burr
Ida is the Inbound Marketing Manager at Social Stairway, LLC, which provides Digital Marketing services to Credit Unions and Affiliates. She has been with Social Stairway since 2014 assisting Credit Union staff with their social media platforms and campaigns. Ida has experience in the banking industry as well as digital marketing, communication and content development.