Subscribe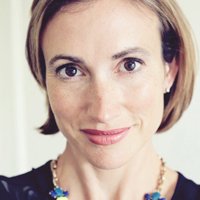 Credit Union Social Media: Avoid These 5 Mistakes on Instagram
Social Media Marketing | Marketing & Sales Strategy | Financial Institution News & Information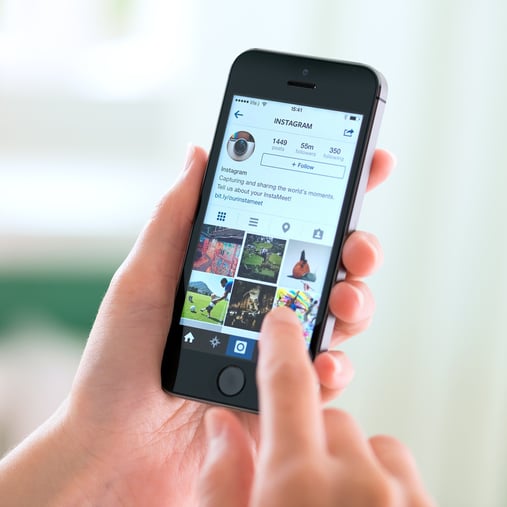 How Your Credit Union Can Avoid the Top 5 Mistakes on Instagram
Is your CU on Instagram? If not, maybe it should be. After all, Instagram is one of the fastest growing social media platforms today. The audience on Instagram skews much younger than Facebook, most being between the ages of 18-29, which makes it an excellent platform for your CU to reach younger potential new members.
However, if you're going to use this new social media platform, it's important that you avoid the most common mistakes. Here's a list of the top 5 mistakes we see regularly on Instagram:
1. Profile is Incomplete
When creating an account on Instagram, you have up to 150 characters to use to describe your Credit Union. Make sure your description is complete and straightforward. Also, make sure your website is listed, since it is click-able directly from your profile.
We also recommend that you change the link in your profile when you share relevant content from your website, as this is the ONLY hyperlink on the platform that so it's the best way to send people to your CU website. Refer to these links in the relevant posts with comments like "link to blog in profile above."
2. Insufficient Use of Hashtags
Hashtags are a great way for your Credit Union to categorize its posts. Hashtags help Instagram users find content when they search for a specific hashtag or topic. Make sure you are using at least 5–7 hashtags per post, since this will increase your chances of popping up on someone's search, which will then likely help result in new followers.
Your hashtags should also be specific enough so that your content doesn't get lost among the 500,000 or so posts tagged with something too broad like: #photo.
For example, Landmark Credit Union is doing a great job using appropriate hashtags. In this post they tagged the location, their CU, and the charity they are donating to.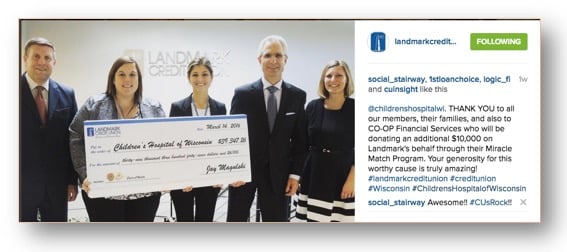 You should also pay attention to trending hashtags and piggy-back on those when appropriate. For example, fun seasonal hashtags (i.e. #marchmaddness, #cincodemayo, #july4th, etc.) are a great way to get more visibility and have fun on the platform.
3. Sharing the Wrong Content
When Instagram started out, it was a platform primarily for artists and designers because the content was focused around sharing quality photographs. This still continues to be true, however, more and more businesses are using Instagram to promote their business, which may not be related to the arts at all (like Credit Unions!).
But keep in mind, Instagram is still driven by the image you are sharing, so make sure it is a quality image. This doesn't mean that it needs to be taken by a professional photographer, but the photo should be clean and clear, and should evoke some type of emotional response from followers.
Instagram is not the social platform to only share canned, overly produced graphics. The occasional quote image is fine, but make sure your Credit Union is also sharing REAL photos of members or employees, doing REAL things. Behind the scenes photos are hugely popular among Credit Union followers because people want to see what goes on there. You might also try fun graphics that share the benefits of banking with your CU!
A good example of behind the scenes images from a CU is Numerica Credit Union. Their content is fantastic! Lots of behind the scenes shots and videos of employees having a good time at work.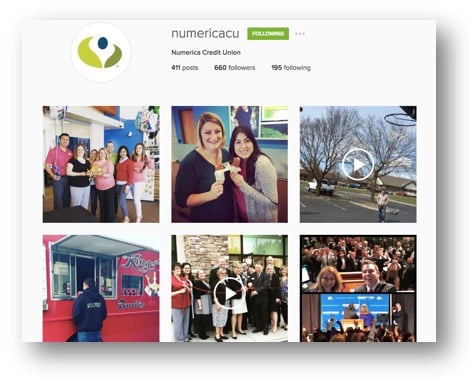 Need a Credit Union Social Media Staff Policies? - Download Our FREE Template Today!
4. Posts Not Related to Your Credit Union
We all love a cute photo of a puppy, but how is the puppy related to your CU? How about if the puppy is visiting a branch? THEN the photo works! When sharing content on Instagram, you should keep in mind how it relates to your business and how can it benefit your followers.
A main goal for Credit Unions is to attract new members. Verve Credit Union posted a cute picture of onesies to promote new accounts.
This kind of a post is also a good opportunity to update your profile webpage link to your new account webpage for your CU (this should also be mentioned in the post description like "new account link in profile").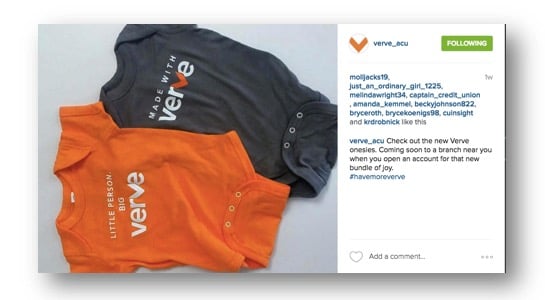 Remember that none of the descriptions in Instagram are hyperlinks, even when you share a full url, so it's essential to change the link in your profile regularly and then refer to these links in your posts. The purpose of your CU being on Instagram is to drive traffic to your business website, and this works best with the hyperlink in the main Instagram profile.
5. Your CU's Website is not Mobile Friendly
Instagram has two offerings:
1. The app for your mobile device and 2. The desktop version.
However, the desktop version has major limitations because you cannot post an image from your desktop, only view and comment. However, if you use a third party social media software (Hootsuite is one we love!) then this would allow you to post from your desktop.
Regardless of how your CU posts to Instagram, most individual users access Instagram from their mobile devices only. This is why it is critical that your CU's website is mobile responsive.
Also, make sure your website has a link to your CU's Instagram profile! This lets your members and potential new members know that you are on Instagram so they can follow you.
We would love to help your CU with more best practices and strategy for all of your CU's digital marketing efforts. Contact us today or visit our blog for more great tips and articles! www.socialstairway.com
About Tara Moseley
Tara Moseley is a Partner of Social Stairway, LLC, which provides Digital Marketing services to Credit Unions and Affiliates. Tara has a strong background in Project/Program Management and Technical Consulting. She has implemented large-scale projects across various industries and is also an experienced photographer, which helps tremendously when working with clients on their visual Social Media needs. As a Marketing Consultant, Tara has worked with Credit Union staff to develop and curate content. She also specializes in Instagram.