INTRODUCTION
When our company was founded it was named Social Stairway. An unusual name yes, but the focus was clear… our mission was to be the best at social media marketing for our clients.
Since that time, we've grown and expanded our areas of expertise and service, but our focus on staying current on social media hasn't changed a bit. And this is why we've put together what we believe is the definitive guide to social media for our niche… community-based financial institutions.
Below you'll find what has taken us literally years to test and learn. We hope some of our testing and knowledge can help your Bank or Credit Union take social media to the next level!
Why Social Media is a Perfect Fit for Community Financial Institutions
Are you deciding whether to redirect marketing and business development dollars at your Credit Union for Social Media Marketing? Well, I'm here to tell you that as a life-long Credit Union member and Social Media Marketing expert, the two could not be more right for each other! And here's why…
Credit Unions and Community Banks are All About Service to their Customers and Members and Social Media is Too!
Social Media Marketing success comes with developing relationships, cultivating your fans and followers, and helping them with problems and challenges. Credit Unions are all about this TOO! It's their entire mission really. So why not bring CUs and Social Media together?
Being Genuine and Real is What Works on Social - It's No Different for Financial Institutions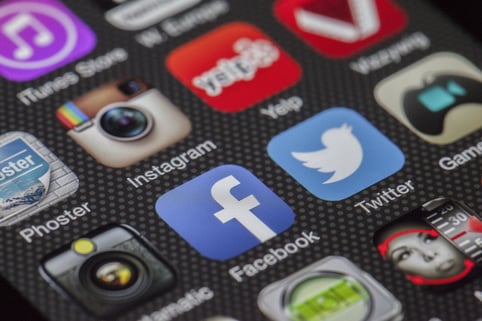 We're talking about member-owned cooperative financial institutions that are created to bring financial services and economic opportunity to their members. These organizations answer to boards made up of customers and are completely transparent in their missions and priorities.
This kind of content and purpose works PERFECTLY on Social Media platforms. People online can sniff out insincerity very quickly, but with Credit Unions and Community Financial Institutions the mission IS service to the people they work with, so being genuine and real is just part of why they exist in the first place!
Community-based Financial Institutions REALLY Care About People, While So Many Other Businesses Online are Just Faking It
Now this one might get me in trouble, but I'm going to say it anyway. Most large national banks are in business to make money, and they do that through fees, higher interest rates and other hidden costs. They are not in the business of serving the 'under-served' or really caring about the people that bank with them. In fact they are profit-making machines designed principally to benefit their employees and their stock-holders.
How is this related to Social Media? Well, to succeed on Social Media, brands must come across as more caring, rather than as large, faceless companies trying to make money. So what do they do? They FAKE IT! They try to share lots of cool stuff and post information as though they are interested in being helpful, all with the hope that you'll take the bait and spend your money.
But with Community Financial Institutions the motivation is very different. Your FIs really DO care! That's why they exist in the first place. So Social Media Marketing is that much easier because your content is true and doesn't need to be faked or dressed up. It really IS all about helping people.
How to Create a Successful Social Media Marketing Strategy for Your Financial Institution
Creating a well-designed strategy is the backbone to any successful marketing or sales approach. With that in mind, we often weave in social media for larger campaigns for clients, and here's how we do it…
Set SMART Social Media Goals to Begin With
With any strategy this one should really go without saying… SMART goals are: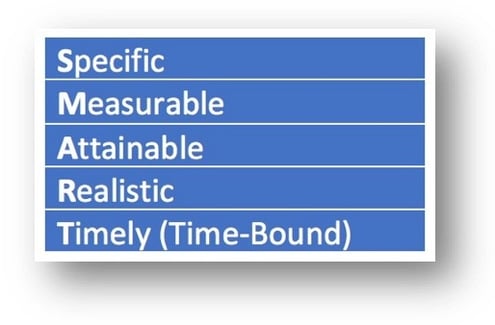 Even though these simple rules seem like a given sometimes, I've lost count of how many of our new clients have told us… 'we want to grow Facebook likes.' First of all this is what we call a 'vanity metric.' I've yet to meet a CEO or Board Member who really cares about page likes on Facebook. This type of a goal is also WAY to general, and it doesn't include a number of the other characteristics that make strategic SMART goals successful.
Instead perhaps you could set a goal of reaching and engaging with 20% of your total customer or membership base within the first 6 months of your new social media push.
This kind of a goal makes more sense in terms of relevance to your larger business goals and objectives - who wouldn't want to interact more with your customers? And it's also specific, time bound, attainable and measurable. So it has the all the hallmarks of a great strategic goal.
Find Key Progress Indicators Along the Way to Achieving Larger Objectives
When we create a social media strategy for our clients we encourage them to include larger annual account, loan or total asset growth goals. But your Financial Institution can't reach those goals without lots of other smaller steps along the way. This is why it is essential to make sure you identify some Key Progress Indicators (KPIs) that can be measured in 30, 60 or 90-day increments to ensure you're heading in the right direction.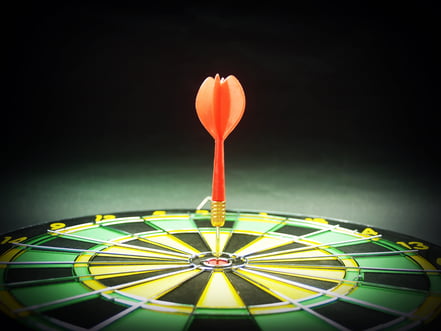 For example, if you have a goal of growing your total consumer loan portfolio by $100 million, and one key part of that portfolio is credit card growth, then each month you may want to track new visitors to the credit card information page on your FI's website.
A SMART goal for this approach might be to increase traffic to this page by 10-30%, depending on the revenue growth goal and your current conversion rate for leads to new customers. Website click ads from Facebook and Instagram are a great way to increase traffic to specific product or service pages on your website.
But if you're still unsure what your current conversion rates are, as many of our new clients admit, you could also consider tracking credit card applications submitted and have similar goals that are driven by your larger revenue growth objectives.
Again, you can't open new credit cards without applications, and these types of incremental KPIs will help you understand where you might need to focus your social media and marketing and sales efforts to achieving your larger goals. These kinds of KPIs will also give you clear points along the buyer's journey you can track, and better understand where you're losing people throughout the application and sales process.
Engagement Is the Absolute KEY to Social Media Success
Now this might be one of the most important parts to any successful social media marketing strategy. A lot of people think it's all about audience growth… how many fans or followers you have. But that really means nothing once you hit an acceptable level that indicates your platform is legitimate. And senior managers just want revenue impacts, but those come later in the process. Those are the long-term goals.
What we have learned over many years of work in this area is that it's the engagement with people on social media that is KEY to your short and long-term success. Whether you want to grow accounts, engage more with current customers, or reach a brand-new market with your business products and services, if you aren't engaging on your social media platforms you're literally just wasting your time. And time is money!
But, don't just take our word for it, here's the proof…
Recently we had a customer who, due to pressure from senior management, moved away from sharing content on Facebook and Instagram that was fun, entertaining and engaging. Their marketing team wasn't thrilled with the change, but against our recommendations they still wanted to try the shift, to "just see what happens."
In just 60 days the impact was striking! They saw a dramatic drop in their overall engagement on both platforms, plummeting from roughly 33% engagement each week to only 8% each week! Wow!
Now what you might say is, 'So what? Who really cares about engagement rates on social media?' And honestly, this is an excellent question. Digging a little deeper into the results from this shift away from trying to engage, we also saw that the costs of driving traffic from Facebook and Instagram went up dramatically as their overall engagement went down.
So as people were doing less liking, commenting and sharing of their content posted on social media, Facebook began to charge the financial institution more for clicks sending users to their website. Their cost per click was going up as their overall engagement went down.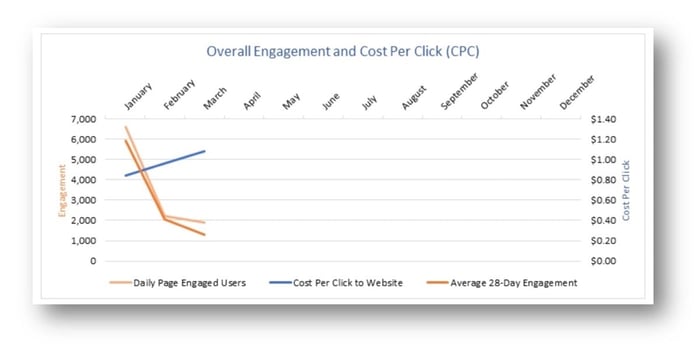 For some institutions it can be difficult posting "off brand" content on social media. They just don't understand how a meme or funny video (see example below) is benefiting their institution in the long run. But whether you like it or not, Facebook owns the platform and they make the rules.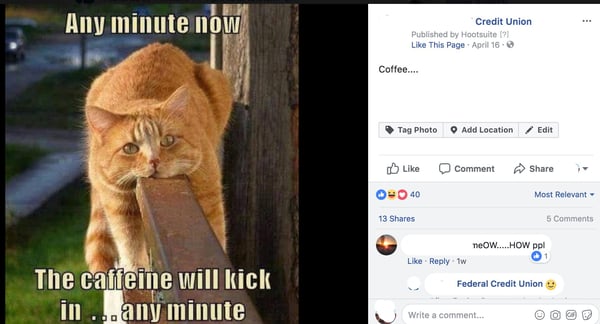 Social platforms are clearly telling businesses they will only organically display content that's considered valuable by their users, and user engagement = value. When people engage less often Facebook ends up charging the business more because they assume users have a lower 'affinity' with your page, so you should pay more for the reach and clicks.
It's complicated, but to effectively utilize these networks you have to work within their defined parameters. And to be successful your social media strategy has to align with the way in which these social networks work, so if you aren't dedicated to engaging with your audience in a fun or useful way you might as well just give up and go home.
Don't Spread Yourself Too Thin on Social
This one is super easy… we recommend not launching more than two social platforms at any one time. Sometimes we will tell clients to just start with one. The reason is simple, most Credit Unions and Community Banks are already massively under-staffed. So even though someone's job title is marketing they might also do lots of other administrative tasks that simply fall into their laps on a daily basis.
Even with help from an outside agency, social media marketing is a serious commitment. It takes time to learn how to do it well, and then continual time to maintain these platforms and post and engage on them regularly. So, starting slowly is always the best rule of thumb.
You can always add an extra network six-months in, once you've got your weekly workflow down. But opening a bunch of networks and then letting them go stale is unprofessional and can lead to comments and reviews that go without response. Which is never a good scenario.
Write It Down, Check It Regularly
We've all heard the quotes about this one… but truly, a goal that's not written down is just a wish. And we all know what happens to most of those, most of the time.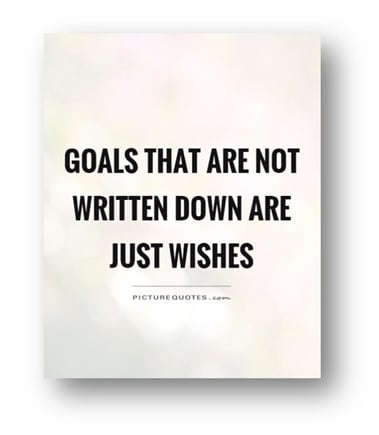 So, make sure you and your team record your social media marketing strategy and then make sure you look at it at least monthly to check your progress.
We have actually added a way to quickly reference larger goals around KPIs and budget in every meeting we have with our clients. These tend to be twice a month, and we use goals as a quick starting point for the rest of the meeting.
Maybe this works for you, maybe it doesn't, but having a regular reminder of larger goals and objectives is important if you want to keep your team on track.
Involve All the Key Players & Define Exactly WHO Does WHAT
Again, this one sounds simple, but never assume that others know what is expected of them. After all, you know what they say about making assumptions…
In our strategies we work backward from larger annual goals, to smaller campaign objectives and then finally tactical steps that are typically weekly or daily responsibilities. But we don't stop there. For every small tactical step we define for clients whether it's their team who is doing the task or whether it is our team.
Then each internal team divides up those tasks and assigns them. So, if at the end of Q1, you see your Facebook engagement rates have plummeted you don't have to wonder who to talk to. You know you need to address this with the staff members who should be posting and engaging on that platform each day.
And clearly defining responsibilities makes it easier to identify weaknesses or when someone is perhaps over extended and has run out of time to adequately perform their regular duties.
What Social Media Content Your Financial Institution Should Share
Engaging Social Media Content is Essential to Online Marketing Success
One of the services we provide clients is to curate effective content each month for their social media platforms. We make a lot of the same suggestions, so here's a list of the top 5 kinds of content we recommend. Consider these ideas as you build your Bank or Credit Union's own social media marketing strategy.
1. Tips & Tricks (Video Tips are Ideal on Social Media!)
These work best when they are made as a post (with an image of some kind) that demonstrates a short but useful tip. We also like to use short tip videos as well. You can find these from sources like ClickVue, which offers a very affordable monthly subscription for Financial Institutions.
Remember that sharing great tips positions your Bank or Credit Union as a trusted advisor, which goes a long way to building rapport with existing customers and potential new customers.
Here's one video we just posted for a client about credit card tips for college students:
2. Profiles of Your Internal Staff or Customers
Profiling staff is a great way to humanize your Credit Union or Bank brand, and it's a great way to engage with the friends and family of your biggest asset, the people who work for you! We like to do these staff profiles in a fun way with split pictures of staff as adults side-by-side with baby pictures. But don't forget to have social media staff policies in place before you start this kind of contest.
Content from positive customer experiences works very well on social media. We often run testimonial contests for clients to generate more real-world examples, and then share these stories again and again.
Testimonials are great at generating engagement on social media, and they inspire others to consider doing business with your institution. We also use testimonials in email marketing as they are much more authentic than just promoting a more generic "great rates and member service" message. We've also written about some other great contest ideas that work well for FIs.
3. Funny Memes, Questions or Inspirational Images with Quotes are Great on Social Media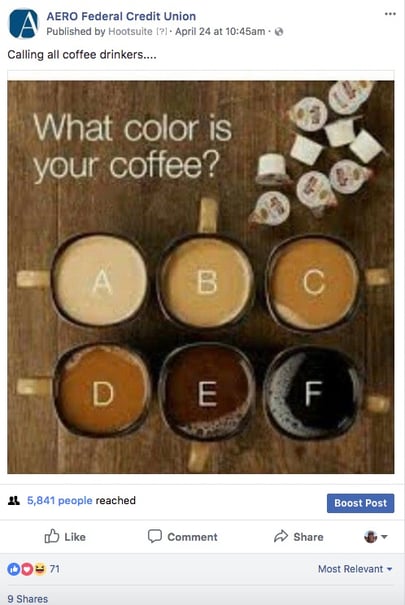 These kinds of posts are extremely engaging for social media users. We share them on our own Facebook page, and often curate similar content for clients. You can also brand your images if you make them yourself, which is a great way to keep your logo top-of-mind. But don't brand everything you share, as those types of edited images feel less authentic
Just remember to reply to every comment and have a response plan in place for your staff to help them monitor these kinds of social media posts.
The easier the question the more likely users will take the 10 seconds to answer, and when someone engages with your content they will be more likely to see your content again in the future. This example below is very funny and also incorporates an easy to answer question.
4. Behind the Scenes Photo Posts
These are also a great way to showcase staff and other happenings at branches and business events. You should always share any outreach or community service events your staff participates in, to show the good works that Credit Unions and Banks do for their communities.
Here's a nice example that tags a non-profit this credit union made a donation to: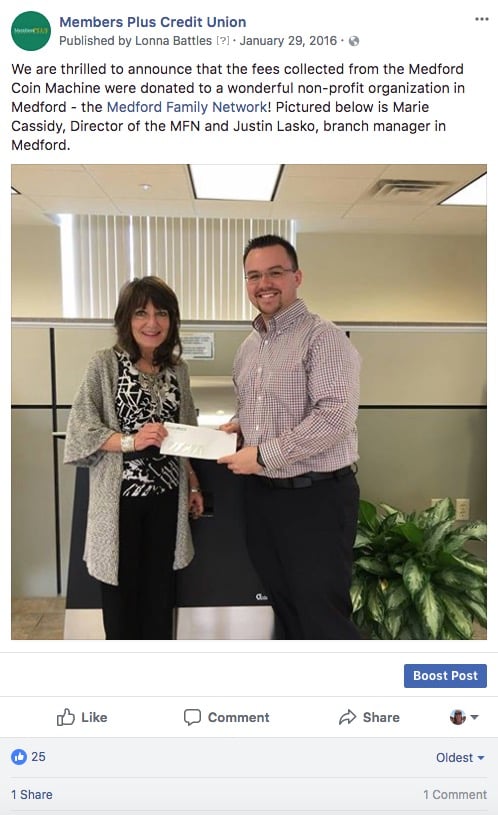 5. Stand Alone Financial Tips
Even on Instagram you see many Banks and Credit Unions getting more and more active.
Financial tips are a great way to bring visible value to your followers and showcase your thought leadership in the banking industry. But be careful about trying to sell your products within these posts.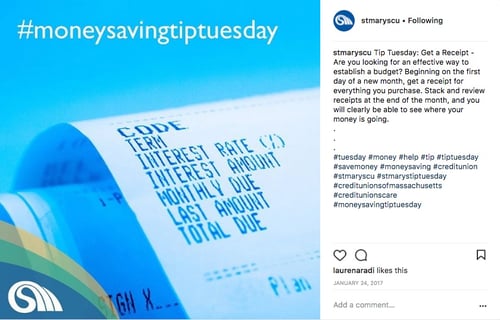 Social media is better to build rapport and then eventually you can try to capture leads by sending them to your website where you can sell them a product or service or email them in the future with more sales specific information.
As you can see... "Content is King." Use these tips to help inspire your own online marketing efforts, or feel free to contact us about how we can help your Financial Institution with your own inbound or social media marketing strategy!
How Your Staff Should Respond to Positive & Negative Social Media Comments
No matter how hard you try to avoid it, eventually someone will say something not-so-nice on your one of your credit union social media platforms. And the delete button should only be used in situations that have no way of being resolved or clearly violate your social media policy. Here are 5 ways you should respond to negative social media comments.
1. On Social Media, Pick Your Battles:
Sometimes you have to follow the rule "the customer is always right." The picture below shows a meme of a "Sea Horse." Although this was a play on words (we were not talking about an actual seahorse) by agreeing with the comment, we turned this into a positive experience. No need to get into a grammar debate about something silly and fun.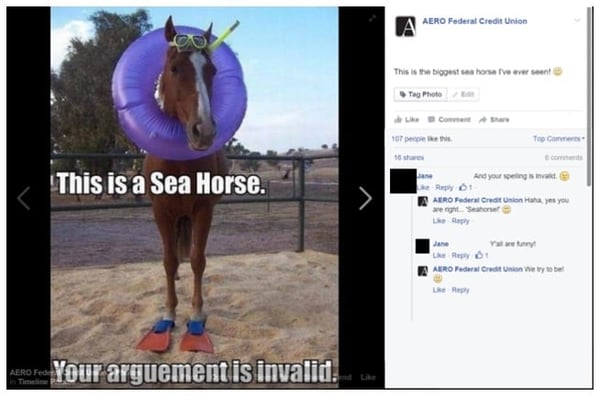 2. Be a Mediator:
The only thing worse than one negative comment is a negative exchange between two (or more) people. You can't control what other people are going to say, so regular monitoring is critical to quickly defuse these situations. Thankfully, we chimed into this conversation early on, and actually got an apology!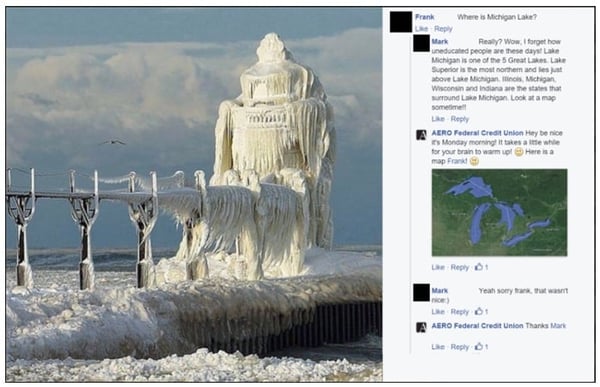 3. Kill Them with Kindness:
Everyone that stumbles onto your Facebook page will not know and love your brand. When you respond to negative social media comments always stay positive and be friendly.
In this example, several people were posting comments about another Financial Institution in the comment area on our page. No need to bash the other FI, after all, there's plenty of business to go around! So just share the love! :)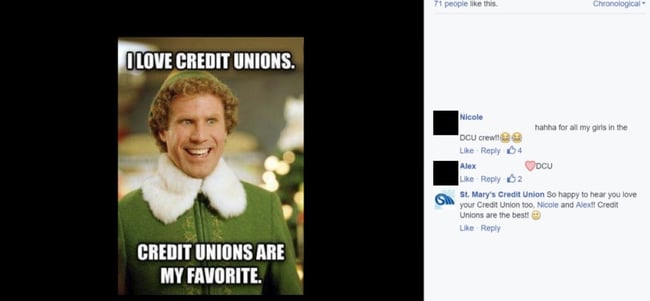 4. Even if You Do Not Know the Answer, Respond Anyway:
When you notice a question or concern about your product or service, respond immediately, even if you do not know the answer yet. For example, if someone says that online banking is down, and they cannot log in, consider responding with:
"(Name), are you still experiencing this problem? We are so sorry to hear you're having trouble with our online banking, thank you for making us aware of this problem. We will look into this immediately. Please feel free to private message us with any personal details if necessary."
Then make sure you do what you say you're going to do. Look into the situation as fast as you can and respond both publicly and privately once you determine what the issue is and/or have it resolved.
These types of problems that occasionally arise with online banking are also good reasons why you need to designate one staff member to be on call at ALL times, including evenings and weekends. If people can't access their accounts and share that with you online, they will expect a response within a couple of hours. You should meet these expectations of a quick response time whenever possible.
5. Be Helpful and Understanding on Social Media:
If someone posts something that is clearly incorrect, instead of answering with a "well, you're wrong" kind of attitude, try to guide them to the right answer.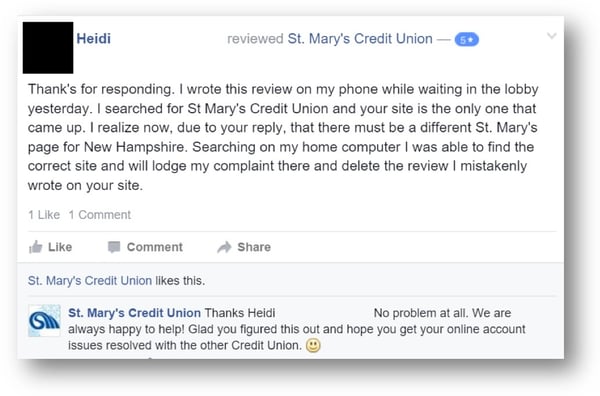 We knew all along that she was mistaken, but we let her figure this out on her own and instead we responded to the comment with a message of apology, and included all of our client's branch locations and asked the user to verify the location of the incident. The customer eventually realized they made a mistake and revised their review.
We recently had a situation where someone wrote a review on our client's page that was actually about an unaffiliated bank in another state, but this bank had a very similar name as our client institution.
It is important to keep up with any negative comments on your page and to always respond with an appropriate and timely message. The vast majority of comments will be positive, but on the occasion that someone has something critical to say, it's essential that your staff respond quickly. By doing this you demonstrate that you take your customer's feedback and concerns seriously.
Treat these rare instances as opportunities to demonstrate stellar customer service, and when mistakes are made you should acknowledge them and treat them as learning opportunities for your staff.
The only time you should delete a comment is if it is CLEARLY off topic, destructive, spam, profanity, includes personal or account details or is about illegal activity.
Social Media Contests that Really Work for Financial Institutions
With clients we always recommend they consider running some social media contests on their various platforms, just to get the proverbial 'ball rolling'. These contests have ranged from the old-school 'Page-Like' contest, which are now against Facebook promotion guidelines, to 'selfie' contests and perhaps even a larger incentive prizes like a paid mortgage for a year!!
Here are FOUR specific examples of social media contests for financial institutions you can implement today!
1. MEMBER/CUSTOMER TESTIMONIAL CONTESTS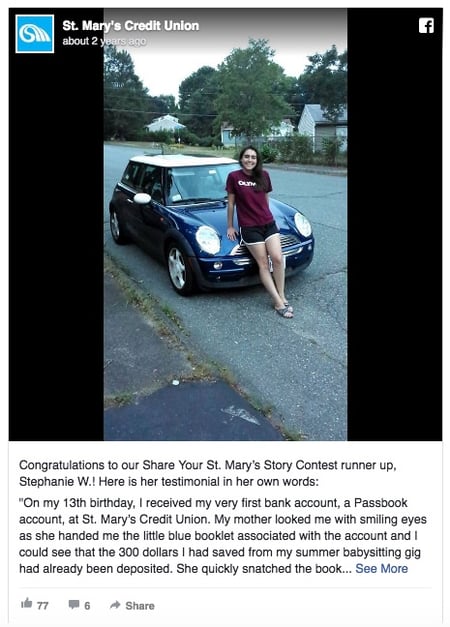 Once your online audience has been established and you are interacting with members online a bit more, you should consider a member testimonial contest. We typically run these for 3 weeks and promote them via emails, social media and social media ads targeted to members or social media users who have recently visited the Credit Union website.
We recommend offering 1-3 larger prizes, like $200-300, to encourage members to share their experiences. You should also make sure to require 2-3 short paragraphs so that you get meaningful entries, and each entry should also have a visual, as these make the testimonials seem more believable.
These contests typically yield 20-30 amazing entries (depending on your size of course) and the testimonials can then be used throughout the rest of the year to promote your Bank or Credit Union in emails, ads, blogs and other online assets.
2. STAFF-ONLY PAGE-LIKE CONTESTS
These are absolutely the BEST place to begin for many FIs. We suggest running these internally without a third-party app. The goal of the contest is that you are trying to mobilize your greatest asset, YOUR STAFF, to promote your new social media marketing campaign.
We've had tremendous success with these staff-only contests in the past offering a nominal prize of only $300 cash. You simply send out an email to all staff telling them they will be automatically entered for liking the CU or Bank Facebook page or following you on Twitter or Instagram.
Then the real impact comes when you tell them that for every friend they invite and get to like/follow the page they will be entered an additional time. We've seen single staff members account for upwards of 75-100 new page likes in just a matter of days!
Here's an example of instructions we have used for several clients: sample internal contest
3. SHARE A 'SELFIE' TO ENTER TO WIN
With the rules always changing on Facebook it's hard to know what contests will work and which will not. However, we loved a 'selfie' contest we did with a Credit Union in Arizona this a couple of years ago.
The rules required that the person take a 'selfie' with the CU's sign somewhere in the picture and then submit their picture for a chance to win $500 cash. We had great total reach and engagement with the contest and grew the total Facebook page likes by about 10%, even though we did NOT require a page like to enter the contest, as that is no longer allowed by Facebook.
For this contest we used the Shortstack Third Party App to create the entry page and then manage entries and select a random winner. This was very effective, though for organic reach it would work better to run this kind of contest as a Timeline contest, and track entries manually. This would be more time consuming, but would offer more reach to friends of fans on Facebook.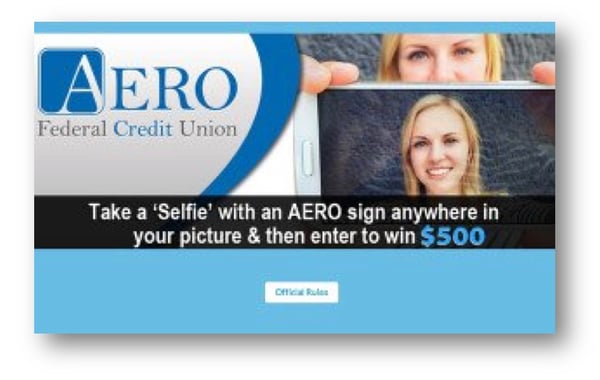 We also recommend that you brand your contests and publicize them in all your images on Facebook (see example Facebook header image below), Twitter and any other platforms you're active on.
And one last tip, keep the contest SHORT! This give people a sense of urgency to enter and will increase your total entries. Most timeline or photo contests should be 5-7 days max, but with testimonial contests we recommend 2-3 weeks. Our clients also blog about the contests before and after they are complete.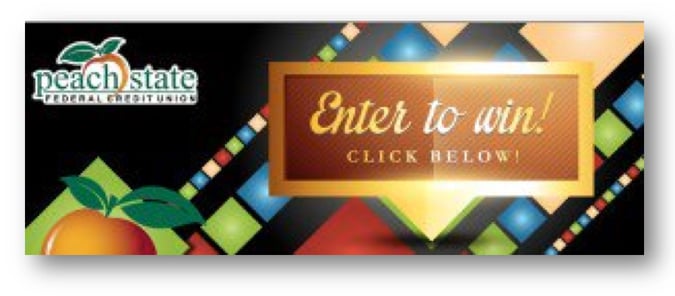 4. WIN A HOUSE OR CAR PAYMENT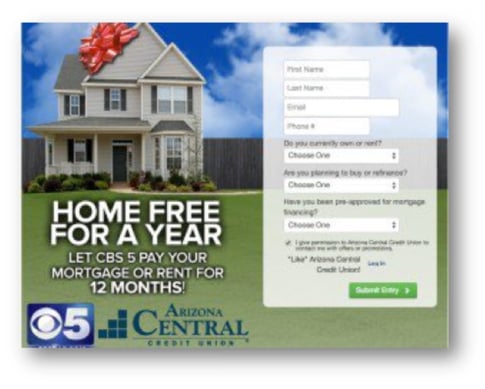 These are truly the ideal kind of Credit Union or Bank social media contests, if your institution can afford them! However, consider a smaller prize, like a one-month mortgage payment or one car loan payment, if you can't afford a year of payments. People love the idea of getting such huge necessities of life for FREE!
In the example below, you will see a very large Credit Union who partnered with a large local news affiliate to increase the reach and publicity of the contest.
In all likelihood this was a very successful effort, but you can mimic this on a smaller scale very easily. Consider partnering with smaller local businesses, like a popular local retail store or restaurant, to give both your FI and the local business a boost online.
Mistakes to Avoid with Your Social Media Marketing
Mistake #1: Being Interruptive on Social Media
In case you're wondering, just broadcasting promos doesn't work! Social media is about relationships.
In 2017, 81 percent of U.S. Americans had a social network profile, representing a three percent growth compared to the previous year. So it's essential to be present on these platforms.
But no one wants to be jarred out of their online experience. If you are posting on Facebook don't just share about your products and services and talk on and on about yourself! Don't be the annoying person at the party who only talks and never listens. Be inspired by the platform and share content that is appropriate.
Our biggest rule... we tell clients to focus on being either ENTERTAINING or USEFUL. Period.
Mistake # 2: Not Having a Clear Strategy with a Clear Timeline & SMART Goals
Without this how do you know what you are really trying to accomplish?
According to Google's Zero Moment Of Truth study, the average consumer takes a minimum of 30-60 days, and often longer, when making purchase decisions around banking. And they consult an average of 8.9 sources of information in this decision-making process!
Clearly social media (and other digital assets) need to be a key part of a financial institution's marketing strategy.
When your customers interact with you on social media they create a digital 'paper trail.' Their friends and family can actually see that interaction, and this type of activity can create reach to people you otherwise wouldn't have been able to connect with. This type of 'word of mouth' is so much more effective than other forms of awareness because it's coming from someone they know.
Mistake #3: Not Putting Significant Budget & Ad Dollars Behind Social Media Efforts (This is All About Priorities!)
Think of it this way... Banks and Credit Unions will invest on average $1.3 million to build a new branch and call it an asset, but if you suggest they spend $60,000 for redesigning or marketing their website and they think of this as an expense. This is a slippery slope for FIs.
Branch traffic is certainly on the decline (with in person teller transactions having decreased by 45% since 1992), but website and mobile traffic has never been higher. In fact, according to The Financial Brand, 61% of U.S. internet users bank online, and that number is only increasing! Clearly Banks and Credit Unions need to adjust their marketing budgets accordingly!
Bonus Mistake #4: Thinking That Because They USE Social Media They Know How to Best Run MARKETING There!
Just USING a social media platform doesn't make someone an EXPERT, it just makes them a USER. Often staff think that because they are on Instagram or Facebook during personal time they will have the know-how to do marketing for their Bank or Credit Union. But it's essential that staff get some training before getting started, and then continue to get support as your efforts progress.
We offer amazing one-off training workshops for FIs and their staff, and we also work on a retainer basis for Credit Unions and Banks that wish to be a bit more focused and strategic with their efforts. Let us help your institution today!
If this all seems like a lot, that's because it is! Don't try to be a hero! Let us help… Contact Us Today