5 Awesome Website Features We LOVE! [with live examples]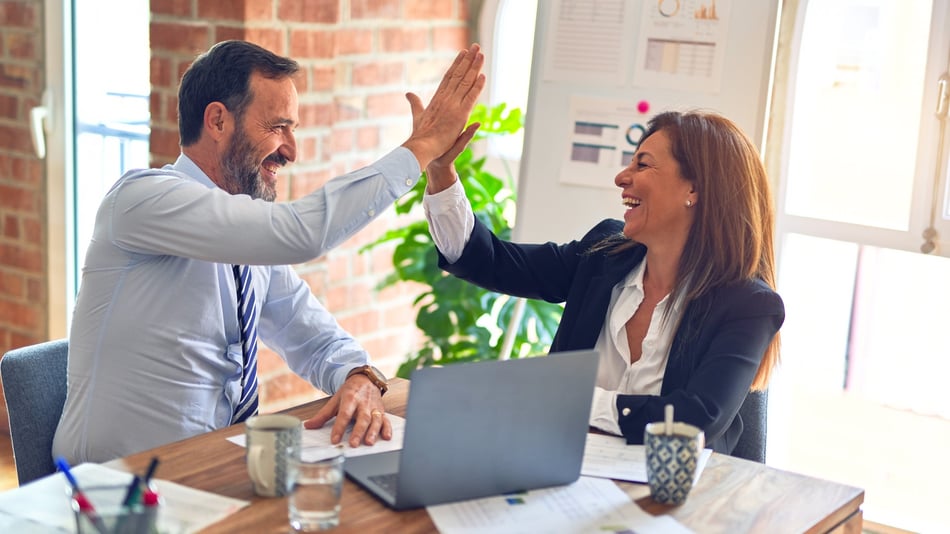 Don't Miss An Episode, Subscribe Now
At FIGROW Solutions we're encouraging our clients to rethink the way they build and use their websites. We believe that traditional bank and credit union digital marketing is broken and we help financial institutions ditch their old school websites for more robust Digital Branches.
Digital branches generate leads and produce deposits and loans 24/7/365 because they are always open for business. If you're looking for ways to grow and develop your bank or credit union in the digital space, check out these features we LOVE!
5 Totally Awesome Website Features We LOVE!
SMART Content - America's Credit Union
Intelligent Lead Capture - Copper State Credit Union
Fun Partnership Highlights - Copper State Credit Union
Robust Resources - Allegiance Credit Union
SEG Lead Capture - Peach State Federal Credit Union
1. SMART Content is Great Because... It's Smart!
SMART Content is how we describe content that dynamically changes based on the website viewer. SMART Content is driven by the user's past behavior on the site - including your blog, or within an email.
SMART Content can also be based on data you have about the visitor. And, behavioral data and statistical data can be used together to create a plethora of different digital user experiences. It's how you take personalization and customization to the next level!
America's Credit Union utilizes SMART Content on their digital branch to stay relevant for whichever product or service the visitor is in the market for. Here are two SMART Content scenarios:
Scenario 1 - The visitor has recently visited the Credit Card page and is not a known member. This visitor will see Credit Card specific information in the homepage hero space and lower on the homepage they'll see a module to join the credit union.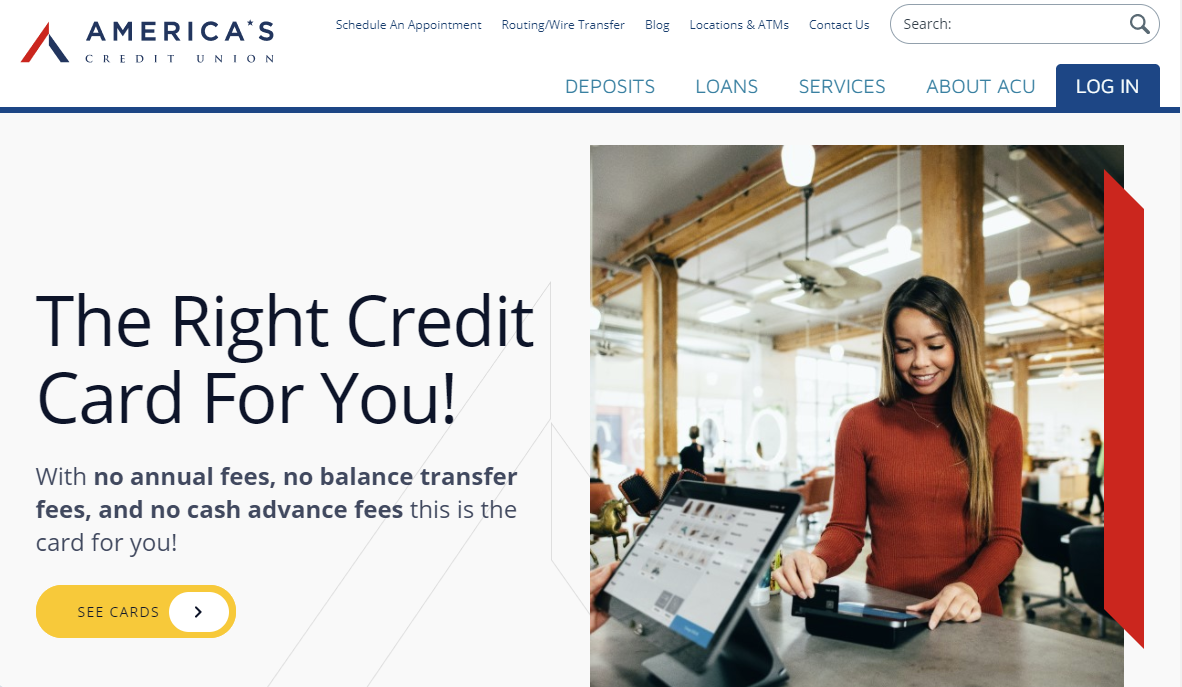 Scenario 2 - The visitor has recently visited the ATV & Motorcycle page and is a known member. This visitor will see ATV & Motorcycle specific information in the homepage hero space and lower on the homepage the join information has been replaced with digital banking information for members.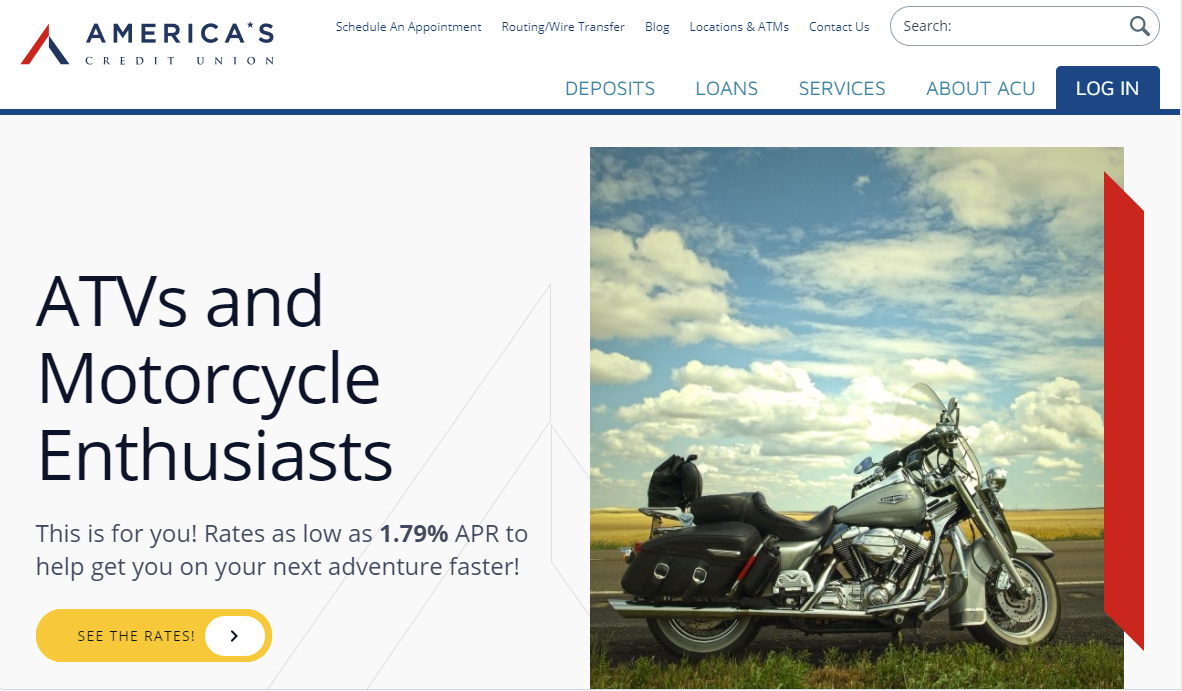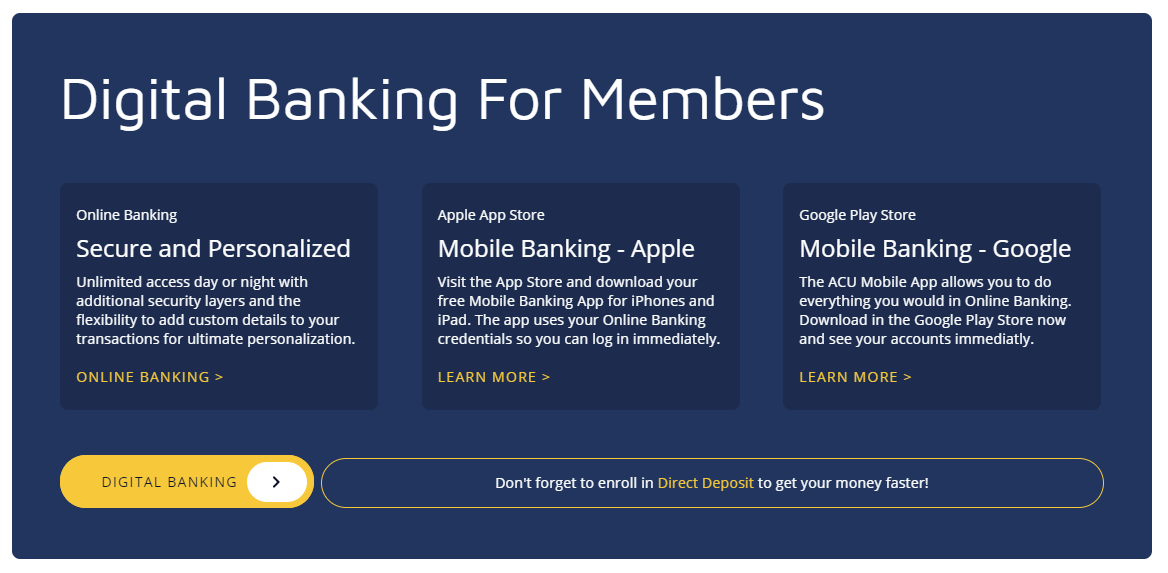 The greatest advantage of SMART Content is that you can make it as detailed as you'd like by adding several variables together. You could use recent page views, clicks in recent marketing emails, eBook downloads, form or application submissions, online calculator usage, and data from your core system to create a unique, fully customized experience for each visitor to your digital branch.
---
The BEST On-Demand Courses for Financial Institution Marketers are here! See them in FIGROWTH Academy.
---
2. Intelligent Lead Capture
Many people think that lead capture is simply an eBook download or a form on a contest landing page. We believe that making intelligent lead capture part of your digital branch is key to delivering a meaningful experience.
Calculators are a fantastic way to capture leads who are further along in their buyer's journey. They're calculating what their loan payment could be, which means they've already picked out what they want to buy and/or know how much money they need. These visitors are ready to buy which means you need to be ready to service them!
The calculators on the Copper State Credit Union digital branch do exactly that! Strategically placed throughout the website, the mortgage and consumer loan calculators organically capture over 20 leads a month from regular site traffic. This is a great way to turn a page visitor into a qualified lead and gives you permission to email them and make that connection.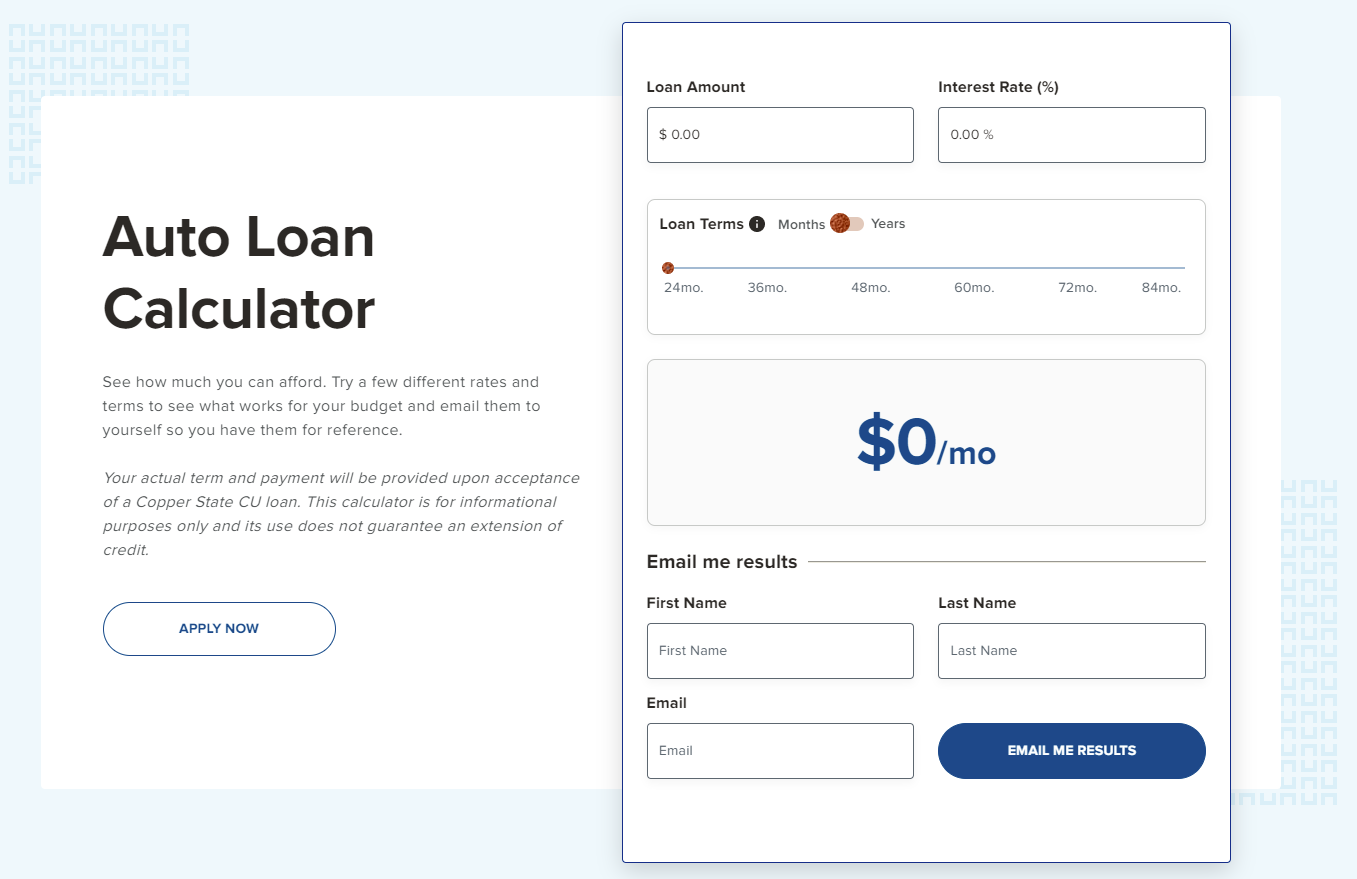 Lead capture through calculators is a great way to give your sales team prospects that are in-market and ready for a product you offer. They are one of the best bottom-of-the-funnel lead capture tools.
3. Fun Partnership Highlights
Another feature of the Copper State Credit Union digital branch we love is the "GO LOPES" toggle in the header that demonstrates their Grand Canyon University Lopes support. Copper State CU is the primary banking partner for the University and they opted to take that partnership beyond their on-campus brick-and-mortar branch presence and fully incorporate it into their digital branch.
When visiting their site, any GCU student, staff, alumni, or fan can use the "GO LOPES" toggle at the top of the page to activate the Lopes signature purple color across the site.
Original Appearance: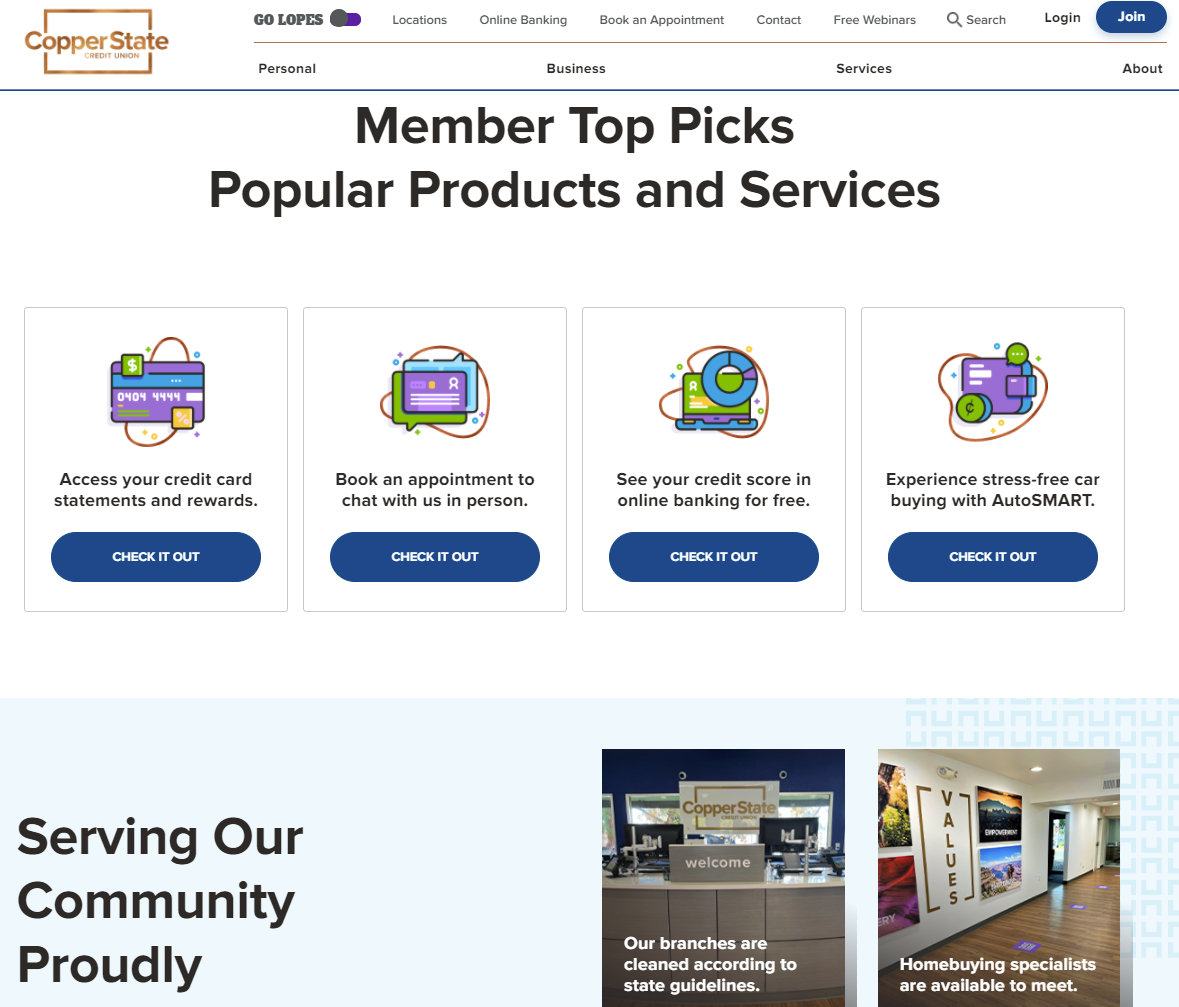 With "GO LOPES" Toggle On: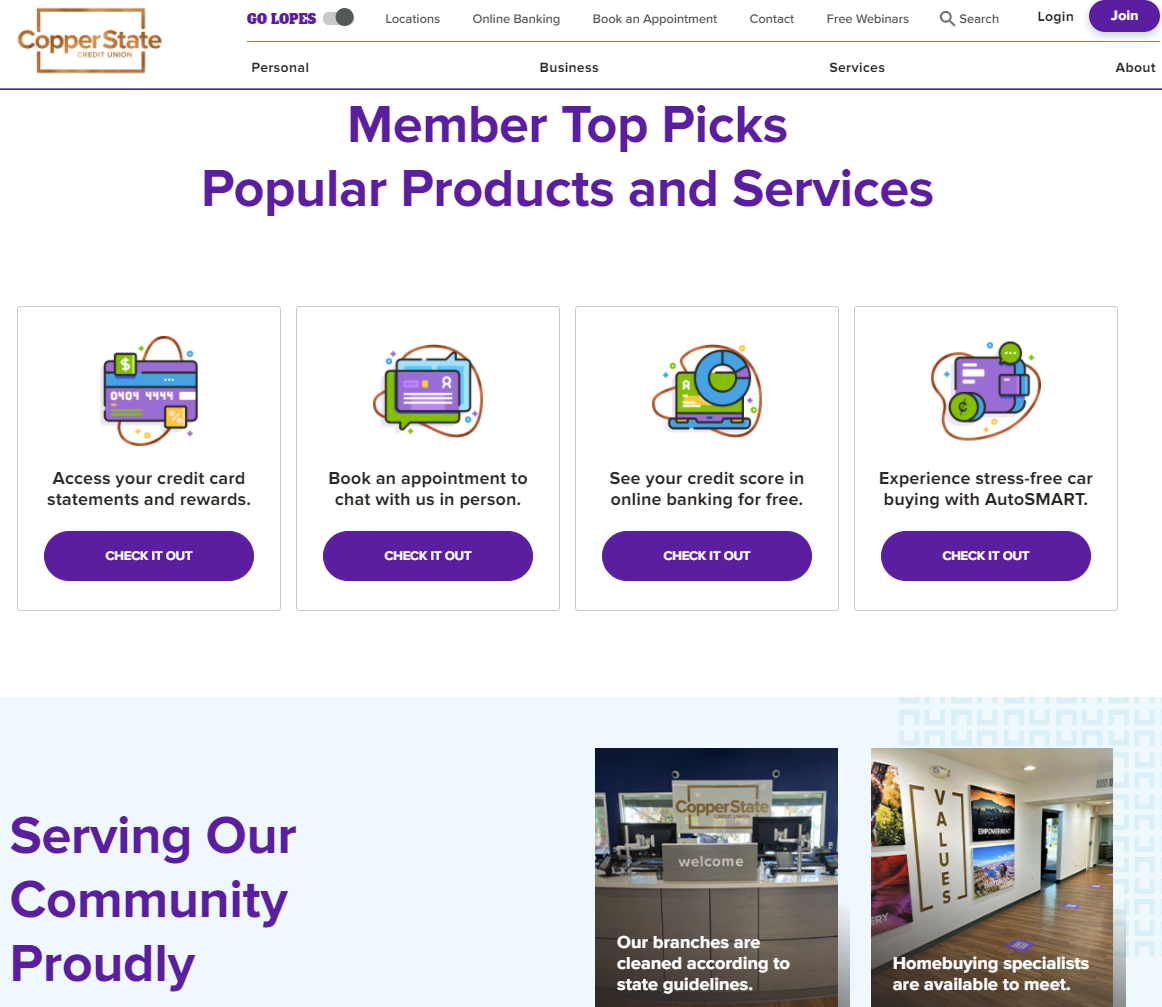 Including GCU in the development of their digital branch is just one way Copper State CU supports the Lopes, and we think it's a pretty cool one!
---
The BEST On-Demand Courses for Financial Institution Marketers are here! See them in FIGROWTH Academy.
---
4. Robust Resources
We love what Allegiance Credit Union is doing to bring valuable resources to its membership. Using the prime real estate under their homepage hero image to highlight video banking, convenient loan payment options, and free financial counseling services is an excellent choice! These are all fantastic resources their members need at their fingertips regularly.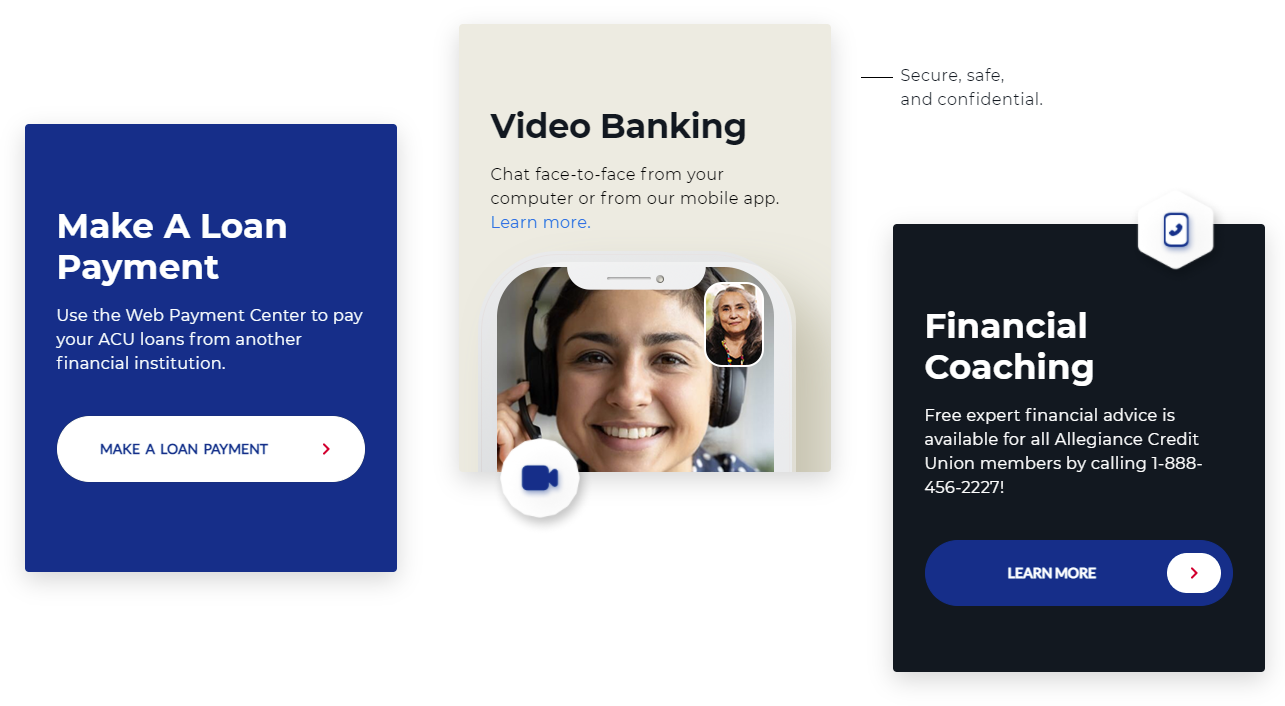 We also love that they utilize a Chatbot. We've seen a lot of Chatbots that don't create a good experience, but Allegiance keeps theirs updated with the trending topics and relevant information so it's always helpful. During business hours there are live people to help answer questions and get digital branch visitors what they need. It's very well done.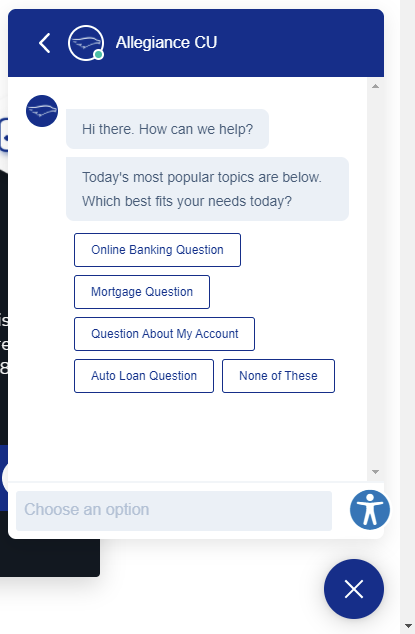 Their robust Resource Center is impressive too. It highlights trending featured resources at the top, followed by the ability to filter resources by both topics and types. We're also impressed one of those types is a live person! This resource center is a great alternative to separate blog posts, ebooks, checklists, worksheets, calculators, etc. spread across different areas of the site.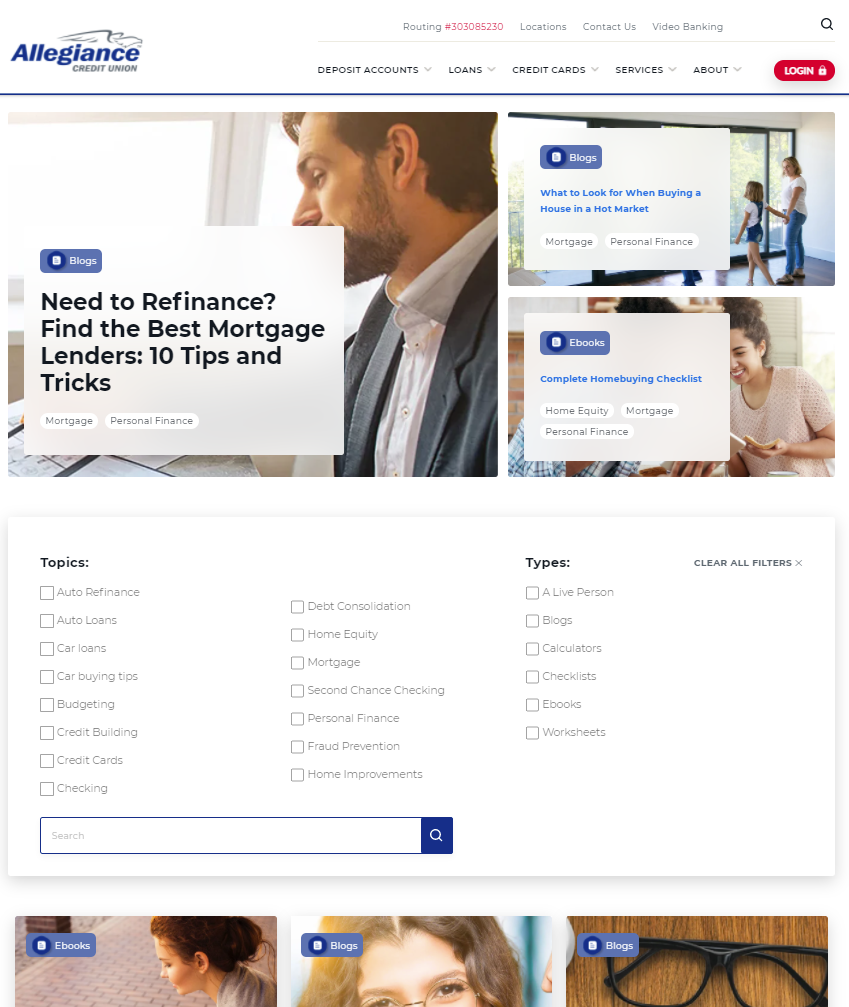 5. Fantastic SEG Lead Capture
For Select Employee Group (SEG)-based credit unions their Business Development team has their work cut out for them! It's a lot of work to find new employee groups that might want to join the credit union. Then, of course, once you've found them, it's a lot more work to follow up and nurture the decision-makers in those companies to choose you as their banking partner.
Peach State Federal Credit Union has done a lot of great things to support its Business Development team. One of them includes a fantastic SEG lead capture page on their website. On this page, interested SEGs can learn more about becoming a SEG, read testimonials, meet the Business Development team, and download a brochure full of helpful information. This public-facing page of information can be shared by any employee at the credit union to help the Business Development team in their efforts to find new partner employee groups.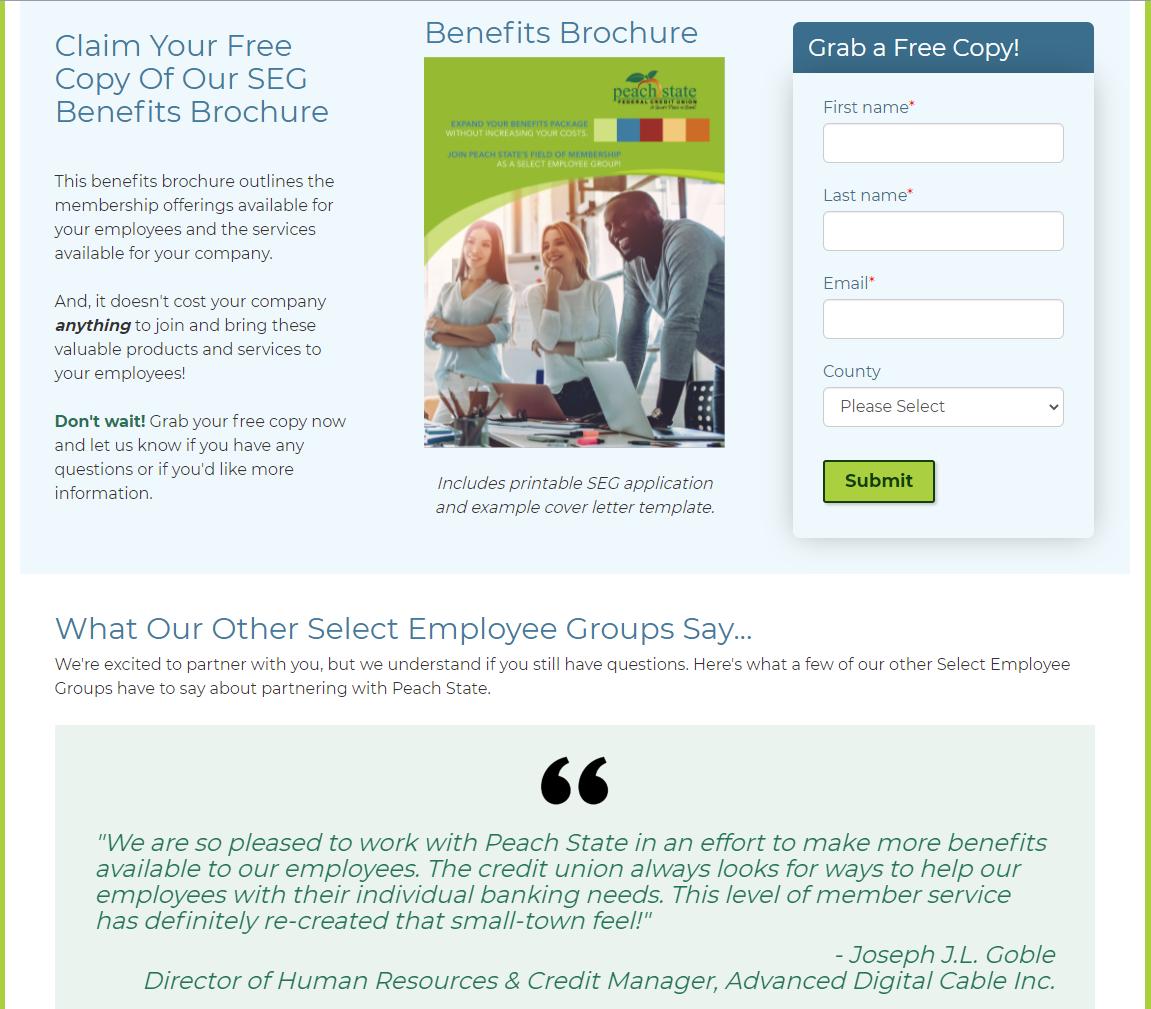 Is It Time To Build Your Digital Branch?
We feel as though a robust digital branch is imperative to the success and future growth of financial institutions. These are just a few recent ways we've noticed institutions using intelligent features and functionality in their digital branches to grow and develop their credit union. We encourage you to consider any of these solutions to help turn your static website into a more robust digital branch that works harder for you.
And of course, if you need any help with your digital branch, don't hesitate to reach out and let us know! You can learn more about building a digital branch here.