Subscribe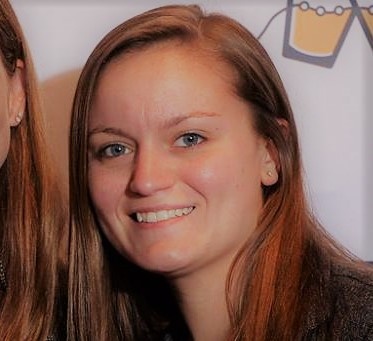 Want Bank or Credit Union Growth? Ditch Direct Mail - Go 100% Digital
Business Growth | Marketing for Your Financial Institution | Marketing Tips
As many of us know, the daily life of the average person has changed drastically in recent years. People are spending more time on their mobile devices and online than ever before. Sure, people still receive and check their actual physical mailboxes, but can direct mail really compete in this new digital world?
Here's why we recommend that for better bank or credit union growth you should ditch direct mail and go 100% digital!
#1 - It's Expensive
In this boundless digital world, you no longer have to fight for physical space like you did with print advertising. The fact that space is unlimited means that the costs are low and Return on Investment (ROI) is high.
Many studies show that Direct Mail is in fact still effective, but the major problem is the COST. And we all know that Credit Unions MUST watch their budgets very closely!
In a recent study by Hubspot, the response rate and the average order was in fact higher from the direct mail campaign. The direct mail campaign had a 24% response rate, and an average order of $68.62. The email campaign was slightly lower at a 23% response rate, and an average order of $67.82.
Direct mail did better, right? Well, the tables turn when you factor in the cost of the two campagins. The ROI for every dollar spent on direct mail was $27. The return on investment on the email campaign was $2,600!! The email-only campaign performed 95 times better in terms of Return on Investment!
Here's the actual results:

Overall, the direct mail campaign seemed to be the better of the two. The direct mail generated (slightly) more revenue and had more responses. But it was the COST of each of these methods that made the difference. So YES direct mail is still effective, but not as cost effective as digital.
DOWNLOAD NOW: 12 Steps to Grow Your Financial Institution
#2 - Not Segmented Like Digital
When you send out a direct mail, you often send everyone in an area the same piece of content. It's cost prohibitive to print and segment your messaging based on ages, gender, income, education level, or other important factors. But with digital you can easily change the visuals and messaging based on these factors and many, many others!
Below you will see two sample audiences we've recently created for Credit Union clients. In the first the client's goal is to grow their leads for HELOC loans. We tageted facebook users in their geographic target area who own homes of a certain value and who are interested in home improvement.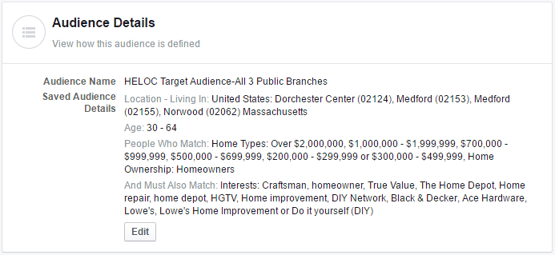 In the second example we are targeting for a different goal, to promote a Auto loan refinance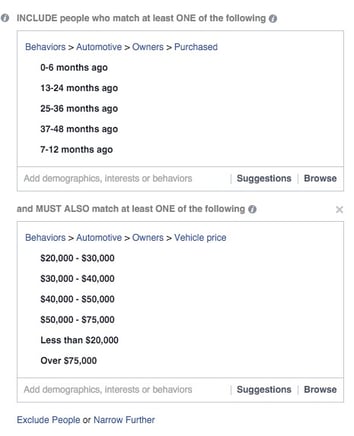 promotion.
In this audience we targeted non-members in the CU's geographic region who have recently purchased a new car and may have a payment they would consider refinancing.
Show me a direct mail campaign that can target this granularly and change the messaging with ease.
I don't think it exists.
#3 - Results From Direct Mail Are Just Not There!
Regardless of the larger stats you might find on direct mail for Financial Institutions, we base our efforts on what we see actually working for Credit Union clients, and direct mail continuously disappoints.
For one large client in the Boston area we recently ran two simultaenous campaigns, one driven by Inbound digital methods (blogging, email, social media, adwords) and one driven by a huge direct mailing that went out to approximately 25,000 households in their geographic area.
The results speak for themselves. From the direct mail driven iPhone giveaway campaign the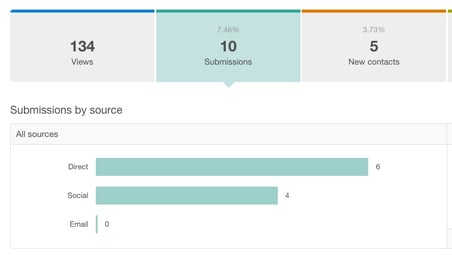 interest just wasn't there. Over the course of the campaign we had a measly 134 views of the landing page and only 10 submissions!!
But from the e-Book campaign with NO giveaway, where we simply gave away a free e-book we have over 2,000 views and 500+ submissions, and the entries continue to come in each day, even though we are not actively promoting the campaign any longer.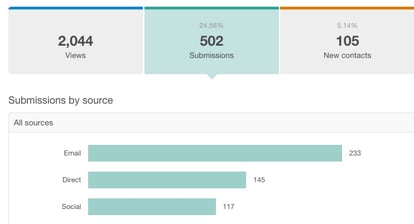 We also grew the CU's email list by 105 new contacts, and these are people we will now nurture over time in hopes that we will eventually convert them to new members as their relationship with the CU grows and we build more trust with them.
In the end it is important for your Credit Union to weigh the pros and cons of digital vs. direct mail and make a careful decision. If you do use direct mail we recommend creating a very specific buyers journey from these print efforts so that you can carefully track results back to their original sources, and then measure your cost versus results to inform future efforts.
Interested in learning more about how we can help your CU? Contact us today!
Related Post: 5 Reasons Why Direct Mail is a Waste of Your Credit Union Marketing Budget
About Ida Burr
Ida is the Inbound Marketing Manager at Social Stairway, LLC, which provides Digital Marketing services to Credit Unions and Affiliates. She has been with Social Stairway since 2014 assisting Credit Union staff with their social media platforms and campaigns. Ida has experience in the banking industry as well as digital marketing, communication and content development.