Subscribe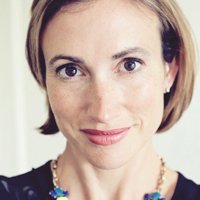 How Your Credit Union Marketing Team Can Create Videos Using Adobe Spark
Marketing for Your Financial Institution | Marketing Tips | Marketing & Sales Strategy | Financial Institution News & Information
Video, video, video. That's all we seem to talk about these days when creating new marketing ideas for our clients. You may of heard that 2017 is the year of video marketing. It's true. In fact, when marketers included a video in an email, the click-through rate increased by 200-300%!
For our agency, we needed to find an editor to create custom videos for ourselves and our clients that had a quick learning curve, but was also robust enough to create a professional looking final product. That's when we discovered Adobe Spark.
And did we mention that it's FREE to use? That's right...Adobe Spark is free to use, well for the time being anyway. For your next credit union marketing promotion, why not create a video for it using Adobe Spark?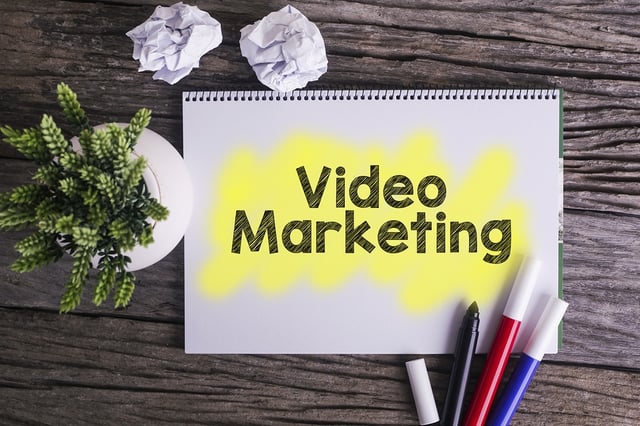 Here is a video project we created for our own brand,
Social Stairway
, using Adobe Spark. Our goal was to create a video to educate our audience on Instagram and Facebook about who we are as a company and the services we can offer to help their credit unions. We used content we already had (big time saver!) in one of our recent blog posts, and created slides using quotes from that blog post.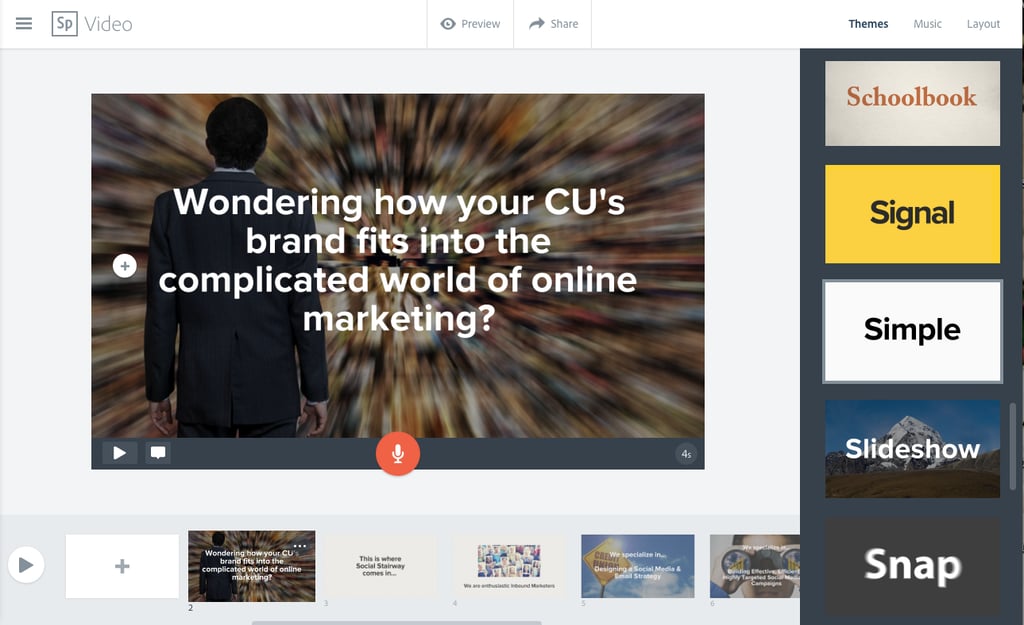 The developers at Adobe are on your side. They truly know how to make a user experience seamless and easy to use. Here are the three key pieces to keep in mind while creating your custom video: Themes, Music, and Layout.
Themes are on the right side of the editor (i.e. Schoolbook, Singnal, Simple, etc.). These allow you to choose the movement for your slides. We recommend keeping the movement as simple as possible so that the viewer isn't distracted from your content by the movement of the slides.
Music selection is our favorite part! You do not have to include music with your video, but we feel that it offers a nice addition to the content in the slides. Adobe Spark allows you to choose from their own music library, or you could upload your own music to use with your video.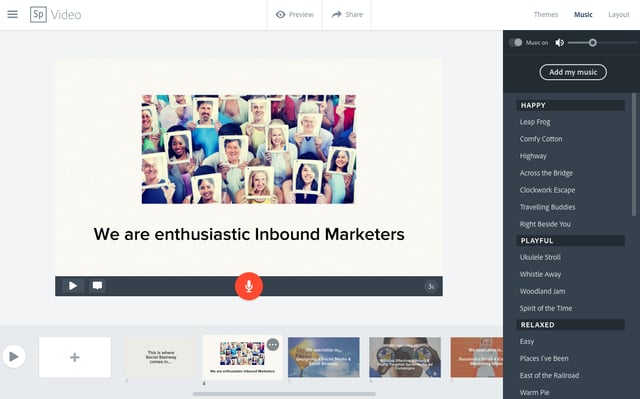 Layout allows you to choose how you'd like the text and image arranged on the slide. Using "fullscreen" for images looks best in video, otherwise your video looks more like a power point presentation. We have various sources for our photos, but we should also mention that Adobe Spark allows you to choose from their vast photo library to use in your video for FREE! Yet another reason to love this editor!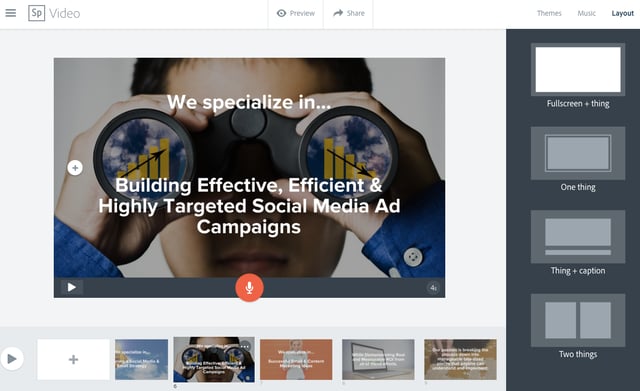 One more thing to note. Adobe Spark is not only a video editor, it also offers an online social media photo editor, as well as, an online web page builder with no coding required. You can choose from professional looking themes and your final product can be shared anywhere on desktop and mobile!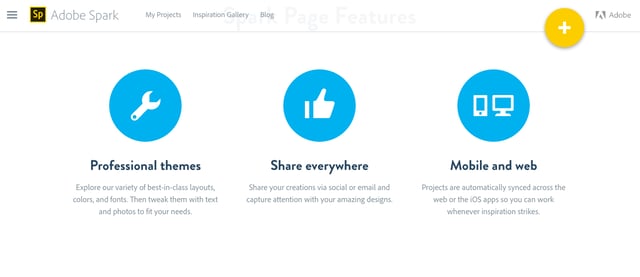 Now...drumroll please. Here is the final product...we hope you enjoy it! Here's our video.
The time for your Credit Union to start creating custom video content is at your fingertips. The future is now. Contact us today, we can help.
And try these 10 Steps to Maximize Your Credit Union Digital Marketing.
*http://www.socialmediatoday.com/marketing/8-mobile-marketing-stats-help-you-plan-2016
**http://www.federalreserve.gov/econresdata/consumers-and-mobile-financial-services-report-201503.pdf
About Tara Moseley
Tara Moseley is a Partner of Social Stairway, LLC, which provides Digital Marketing services to Credit Unions and Affiliates. Tara has a strong background in Project/Program Management and Technical Consulting. She has implemented large-scale projects across various industries and is also an experienced photographer, which helps tremendously when working with clients on their visual Social Media needs. As a Marketing Consultant, Tara has worked with Credit Union staff to develop and curate content. She also specializes in Instagram.