Crisis Leadership - How Financial Institutions Can Adequately React
Don't Miss An Episode, Subscribe Now
Leaders at financial institutions should ask themselves... 'What kind of organization do you want your bank or credit union to be remembered as when you look back to this time in history?'
Here are Three Stages of Crisis Leadership at Banks and Credit Unions
Here is a crisis management framework FIGROW Solutions developed in order to help you identify where your organization is in this process of handling emergency situations.
Understanding this more fully can help financial institutions move from the fear zone to the growth zone where they will have the best chance of survival and growth not only during the pandemic but also guarantee of existence beyond.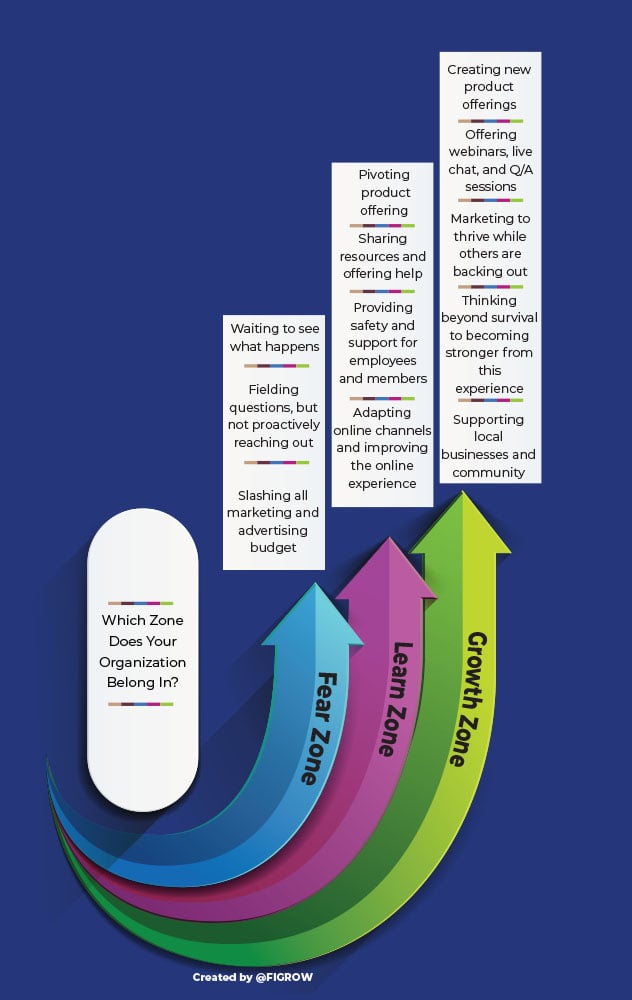 Your Financial Institution is in the Fear Zone if...
A financial institution in this zone is "waiting out the storm," and has paused many of your products and services, as well as the marketing initiatives that go along with them.
You are offering services like skip-a-pay and mortgage deferment but are afraid to actively advertise these options to your customers or members. You may also be fearful of paying employees who are working remotely, and lack the trust to know that working from home options can be positive and productive options for many of your team members.
Your Financial Institution is in the Learn Zone if...
Your financial institution is pivoting product offerings to help customers in need, and putting resource pages together to share the latest news and updates about these changes.
You are actively providing support for employees and customers by building morale, being available in their time of need, and proactively reaching out to share how your institution is trying to help. You are encouraging your team to quickly learn and adapt to using more online channels to improve the online user experience and available options when possible.
Your Financial Institution is in the Growth Zone if...
Your organization is using the downtime as an opportunity to create new and relevant product offerings that empathize and solve problems instead of providing a temporary band-aid type of fixes. You are investing in technology and options that may have taken months or years to approve/implement during regular times and taking advantage of this to make your processes more efficient.
You are working to or have already begun actively offering live chat, webinars and live Q/A sessions with experts to create content and show a genuine presence in their local communities.
You are actively using digital marketing channels to yield higher results. You are supporting local businesses and communities through innovative ideas and looking to be a positive force that comes out stronger from this experience.



Where did your Financial Institution land?
After reading the above descriptions you have already identified where your organization's leadership lies. If you are worried about your organization lying in the fear zone, I would like to first congratulate you. Recognition of a problem is the biggest step towards solving it. If you have identified where you are and also where you want to go, now you have a road map to success.
If you are in the learning zone, I would encourage you to be inspired to get to the growth zone. We would like to push you from the goal of just surviving to thriving. We want you to start identifying the changes you have made and use that to define how your organization will change in the future.
If you are in the growth zone, use your positive attitude, success stories, and growth as a way to influence other organizations around you. Talk about the solutions you have come up with and what results it yielded. Spread the goodness by helping your peers within the industry.
We would love to have a conversation with you and provide you with examples of some of our clients and how we have helped them move from fear to growth zone. Contact us and let's have a conversation!