Content Marketing Strategy Not Working? This is Why.

Content marketing, also known as Inbound Marketing, has changed significantly in the past several years. As the volume of content available increases and the number of channels to consume content multiplies, it's imperative that your content strategy keeps up!
The Content Marketing Funnel is Dead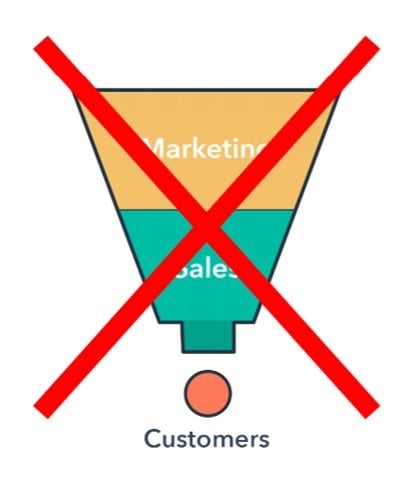 If you missed it, the content marketing funnel is dead. While TOFU, MOFU, and BOFU (top of funnel, middle of funnel, bottom of funnel) were top lingo phrases of marketers for a hot minute a few years ago, the strategy became outdated quite quickly.
The idea that most consumers research products and services the same way and then shop in similar patterns was doomed to fail from the start.
While most sales and marketing professionals could have told you that the concept didn't hold water, the fantasy that the buyer's journey could be controlled, or enhanced, though the order in which content was delivered was easy to embrace and try to develop. But lo and behold, it didn't work.
Bring Forth The Content Cluster!
Content clusters are today's best approach and we've seen great success with our bank and credit union clients using them.
A content cluster uses Search Engine Optimization (SEO) tactics to group content together around a topic. Through on-page SEO, metadata, and (back)linking between large pillar pieces of content like an eBook or transcribed webinar and smaller pieces of content like a blog post, we're able to create a complete cluster of content that collectively helps to increase domain authority for a search term.
When you build content clusters you create a web of information that's optimized for keywords and long-tail keywords about your product. When someone searches "auto loans, truck loan rates, MSRP meaning, or best car loans" for example, your domain will have a plethora of information on the topic.
Furthermore, the search engines will recognize that the content is linked to even more information on the topic. This makes your domain more authoritative on the subject and increases the chances that the search engine will select your content to display in organic search results over your competitors.
Content clusters work 24/7/365 to bring in new leads through strategically positioned lead capture forms within the cluster.
Clusters are built with evergreen content that doesn't require special campaigns and promotions for it to perform. Once you build several of these clusters around your key products and services your website beings to generate leads without paid advertising.
Content Clusters and Buyers Personas
One major benefit of content clusters is that they are only specific to buyer personas when necessary, meaning you don't have to create a cluster for Millennial Mary and another one for Boomer Bob about Auto Loans. When either of those persona types searches for "Auto Loans, Auto Loan Calculator, or Buy vs. Lease" your Auto Loan content cluster is ready to perform for both of them.
Consider this. If you write a blog post about buying vs. leasing a car and you use all the imagery and lingo you think would be attractive to Millennial Mary and then you basically clone that blog, switch out some phrases and images you think would be more relatable for Boomer Bob and publish both of them, it's going to be extremely difficult for a search engine algorithm to know which blog to present to either of them when the search phrase was simply "should I buy or lease a car?"
This doesn't mean that buyer personas are dead. They certainly provide value in other ways.
But when it comes to content creation the only content clusters that need to be written for a certain demographic are those who's topic (product/service) is for a certain demographic. This includes checking accounts for college students, second chance checking accounts for those with bad credit, pool loans, solar and energy savings loans, etc.
It's Time To Update Your Content Strategy
If you're still blogging for individual buyer personas or creating content in a linear fashion that assumes the perfect buyers journey (or maybe you even have a couple variations of what that journey looks like) it's time to update your strategy. This approach is outdated and likely why your content isn't performing the way it should be. Don't worry we have the resources you need!
Discover proven financial industry tactics to ensure that you Win With Google and Lead Your Financial Institution's Content Strategy to Success with this on-demand SEO course offered as part of our Make It Happen! series.
And while you're here, grab your free copy of Fueling Growth with Inbound Marketing for Financial Institutions. This guide takes an in-depth look at content strategies and has everything you need to know about creating clusters and optimizing them to perform for your financial institution.