FI Type

Credit Union
Location

Phoenix, Arizona, U.S.
Objective

New Digital Branch
Website
---
Results
A New Digital Branch

Open 24/7/365!
Content Success

1000s of Monthly Blog Views
Lead Generation

100s of Loan & New Acct Leads
The Challenge
Following a successful merger and rebranding in 2019 & 2021 the recently expanded credit union needed a new website to function better as a lead-generating digital branch, open 24/7/365.
The Goal
Offer all the same services as any brick-and-mortar location
Personalize the experience for each user
Capture leads for sales follow up
Compile all of their content into one place for ease of access and searchability for users
Drive improved search results via organic and paid digital channels
The Result
The newly defined brand for Copper State Credit Union has rich core values (Family, Empowerment, Discovery, Excitement), the perfect blend of the highly sought-after youthful and professional presence, and an unwavering commitment to elevate and strengthen Arizona families through financial empowerment.
"It was a great experience to work with the FIGROW Solutions team for our rebranding initiative. Their creativity, knowledge of credit union culture and attention to detail made this project a success for our members and staff. The rebrand has directly contributed to achieving our measures of success as an organization and our bottom line."

- Robb Scott, President/CEO
---
Digital Branch Case Study
After working with this newly expanded credit union, our team was tasked to design, develop, write and launch a fully-functioning new digital branch. We had four months to reach the initial launch date and then continued to optimize the content on the site for search for an additional two months until all pages on the new website were complete.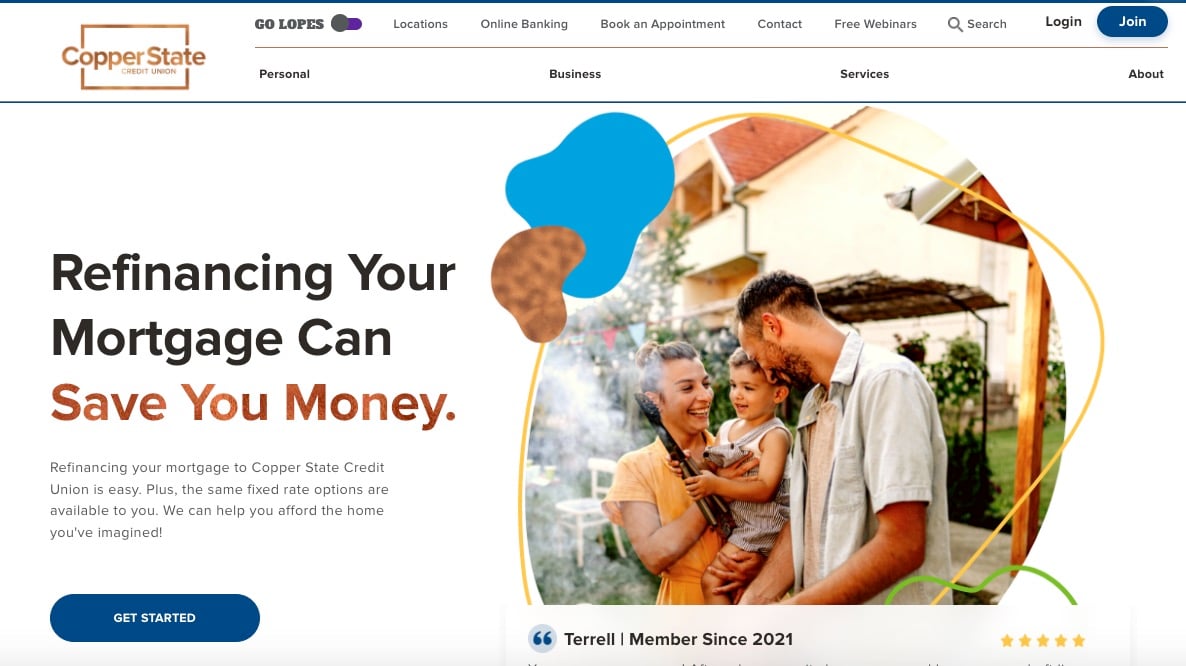 Personalized Experience
Throughout the website, we have modules that offer SMART content, which is the ability to change what a user sees when visiting the page based on list membership or recent digital behavior. Consider all of the following ways you might put this kind of personalized content to work for your credit union or bank: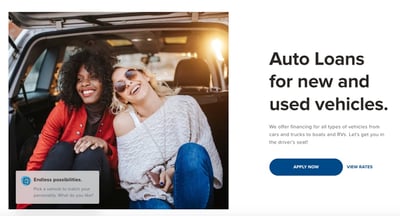 Show a known customer information about a product or service they don't currently have.
Show a known user more information about a product they have recently shown interest in by visiting a specific page on your website.
Add a user's name right on your website page to grab their attention.
Prefill form fields with a user's contact information to help prompt them to action on an application start page or lead capture opportunity.
Lead Capture
A well-designed and optimized digital branch should function as a lead-generating machine! For this reason, every single page on the Copper State digital branch includes some form of lead capture.
We built custom loan payment calculators that also capture emails to send results to the user. These generate hot leads for sales follow-up.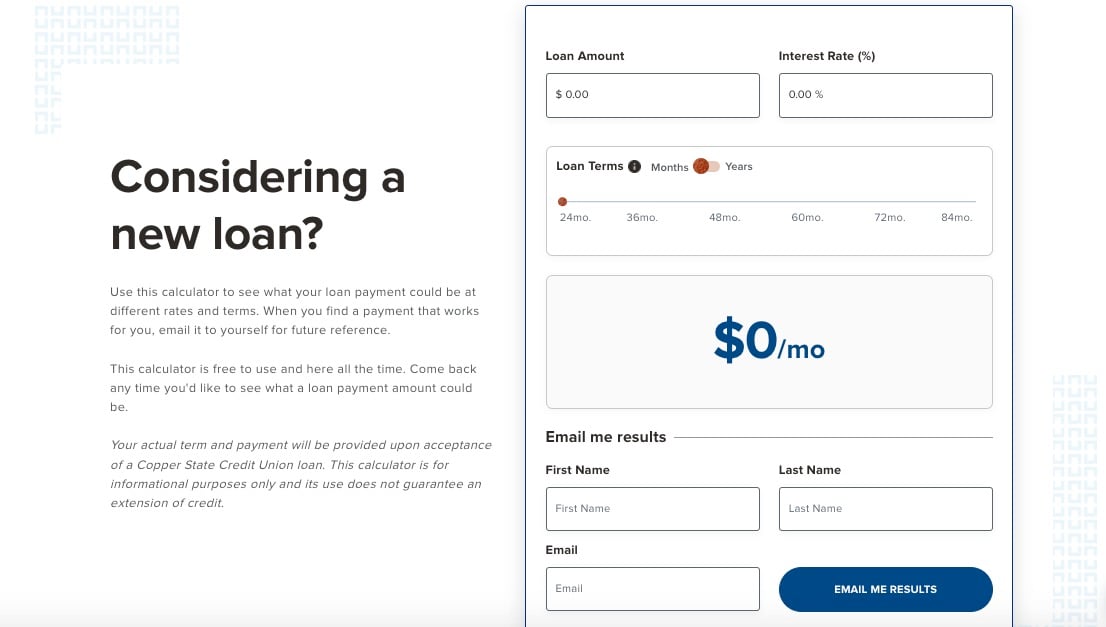 The credit union is also very active in content creation and we highlight many of those items as downloadable pieces of content that capture new users and nurture them further in their buying journey.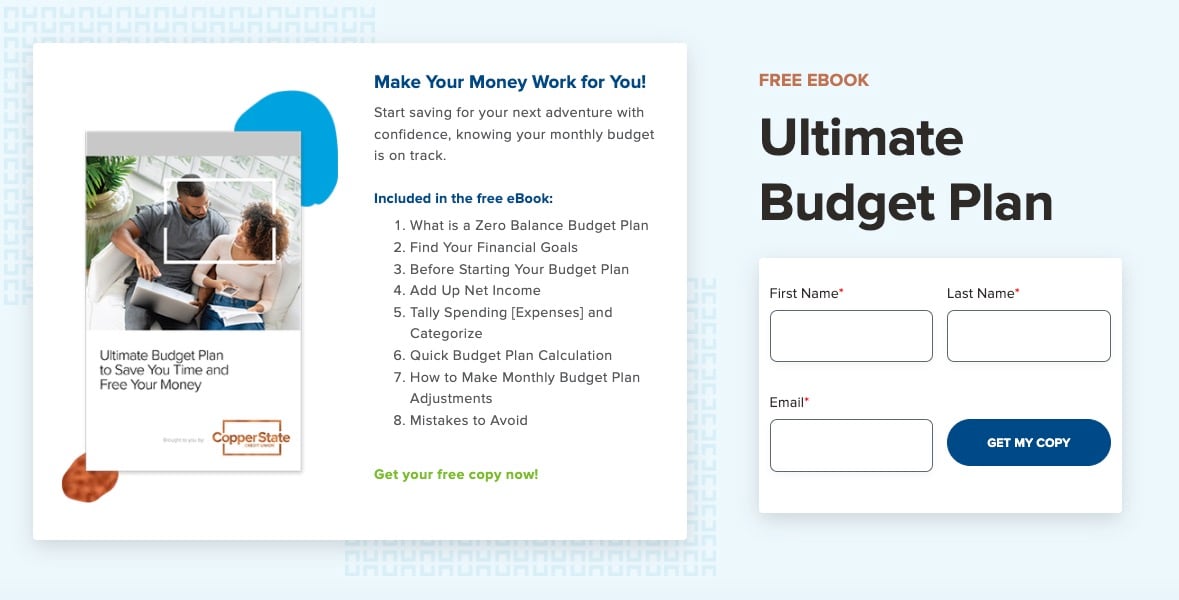 Final Resource Center
Copper State Credit Union has spent the last few years developing a wealth of content and resources for their current members and potential new members. Everything from blog content to e-books and checklists to live and recorded financial webinars are included in their content marketing strategy. Their goal is to build trust via digital channels and become a trusted advisor, providing sound financial advice to their broader community.
We designed and developed a new approach to presenting all of this content to website visitors, in one easy-to-use resource center.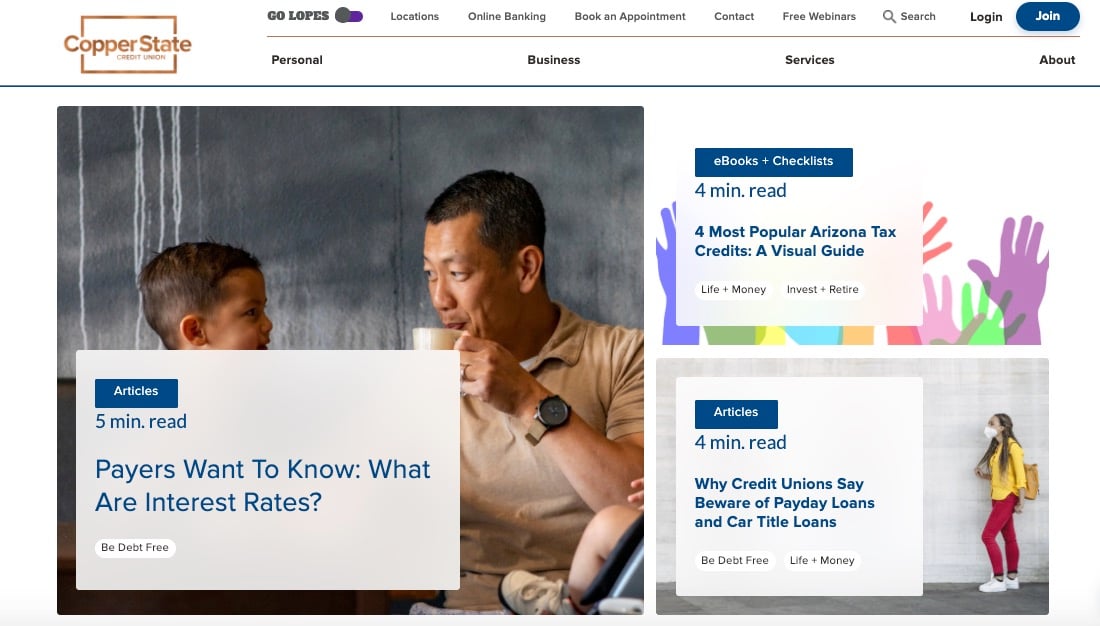 Users can toggle various topics and content types to display exactly the content they are looking for. This content is updated regularly, optimized for search, and includes all on-page SEO elements.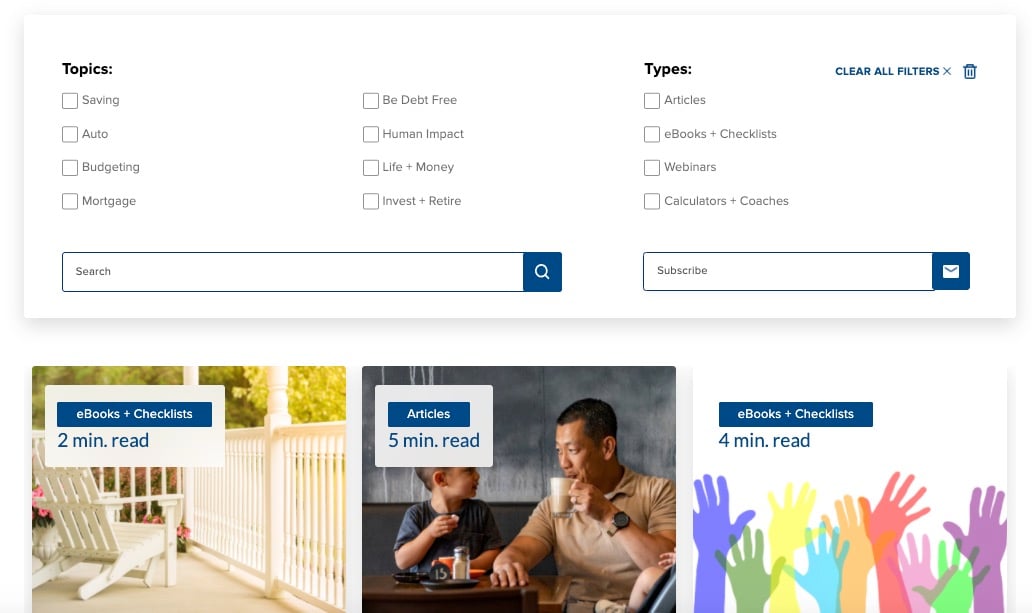 Digital Branch
We brought the new name and brand online with a new Digital Branch. Each credit union had its own website on different platforms prior to the merger. Their new Digital Branch was built on the HubSpot platform and brought the new brand to life in the digital space.
"This Digital Branch build was necessary to ensure continued growth for the newly merged institutions and to showcase the new brand." stated FI GROW Chief of Strategy Penne VanderBush, "Copper State CU truly embraced a modern, younger feel, and bringing it to life online was a refreshing change of pace. We love how their brand identity and brand voice are implemented on their Digital Branch to clearly demonstrate how their values are embedded in everything they do."
In Conclusion
The Copper State Credit Union name change and rebrand was a phenomenal success for the two merging institutions. The newly defined core values have been the catalyst for many new initiatives, such as a financial literacy commitment including monthly live webinars because the credit union can now measure their efforts not only by revenue generated but by how these efforts support their commitment to fulfilling their brand promise and upholding their brand values.

FI GROW Solutions was honored to have been chosen for this major initiative for the credit union and we're incredibly happy with the results. The Copper State Credit Union team was amazing to work with and their knowledge, experience, and tremendous passion for the credit union and its members were evident every step of the way. We're proud to be their partner agency.


---


A merger, can be an opportune time for a name change and/or rebrand but it's not the only time to consider it. If you've had the same look and feel, the same messaging, and the same marketplace presence for years and it's yielding less than desirable results, it may be time to consider a change like this.

Learn more about how we can help your bank or credit union with similar results! Click below to get in touch.


SHARE THIS CASE STUDY: