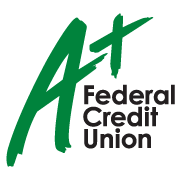 FI Type

Credit Union
Location

Austin, Texas, U.S.
Objective

Digital Ads
Website

https://aplusfcu.org/
---
Results
9.2 Million Impressions

Exposure and visibility of ads
8.41% Conversion Rate

From paid ads
$1.97 Cost per Click

On digital ads
The Challenge
A+ Federal Credit Union came to FI GROW at the end of 2019 with the goal of optimizing the credit union's overall growth by strategically enhancing new member acquisition, amplifying member profitability metrics, and cultivating deeper engagement within member households.
To realize this vision, we planned to leverage the power of targeted digital advertising, focusing on a 7-mile radius around each of their 22 branches.
The Goal
Drive growth by implementing strategic initiatives to increase new member applications significantly

Leverage innovative digital channels and technologies to reach and serve communities that have traditionally been outside their geographical reach.




The Result
Completed Member Applications
Start Application Conversion Rate
In the year 2022, A+ Federal Credit Union achieved remarkable success in member acquisition through a comprehensive digital advertising strategy encompassing display, search, and YouTube ads.
The efforts yielded an impressive result of 2,058 new member applications completed at a conversion rate of 10.66% and an average cost of $133.92.
Building on this momentum, the year 2023 has seen even more significant growth, doubling the previous year's numbers with a total of 4,102 new member applications completed and secured at an outstanding conversion rate of 17.11% and over a 50% reduced average cost of $63.16!
These results underscore the overwhelming success of our targeted digital ad campaigns and signify a substantial increase in the credit union's reach and impact within the community
In 2022, FI GROW effectively managed A+ Federal Credit Union's digital advertising expenditure with a Cost Per Click (CPC) of $2.35. In 2023, we achieved even better results, achieving a reduced CPC of $1.67.
These results highlight our commitment to efficiency in our marketing efforts, ensuring a cost-effective strategy for member acquisition through targeted digital channels.
The figures presented in our performance metrics are especially noteworthy, as they represent individuals who were previously unfamiliar with A+ Federal Credit Union.
Our keyword strategy at FI GROW deliberately avoids targeting branded keywords, ensuring that the results are reflective of new potential customers actively seeking a financial institution without prior awareness of the financial institution's name.
The reported success in member acquisition underscores the effectiveness of our strategy in reaching and attracting a fresh audience, establishing the credit union as a compelling choice for those actively searching for a new banking relationship.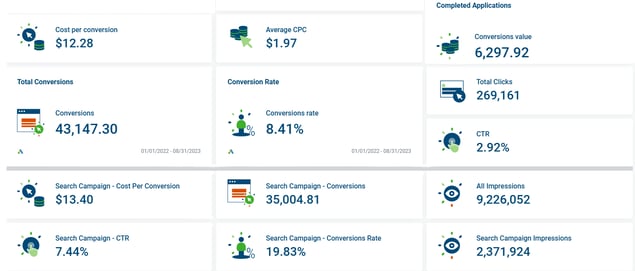 "Working with FI GROW is a partnership and they have become an extension of the A+ team."

- Marketing Manager, A+ Federal Credit Union
---
You can do this for your Financial Institution as well, and we can help!
Our team can give you everything you need to implement full email nurture and lead capture services in addition to social media and digital marketing ad strategy and support. Contact us today to discuss, or visit our Digital Ads Strategy Offer Page to learn more about working with our team!
SHARE THIS CASE STUDY: